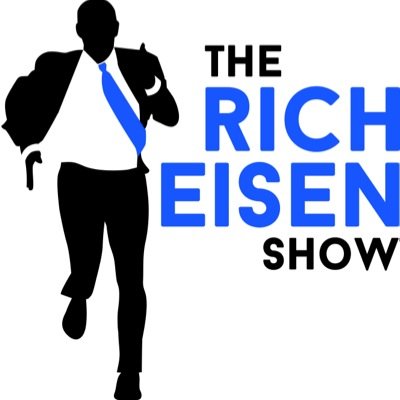 Rich Eisen will be a busy man next season. Busier than he's ever been.
Eisen has re-signed with the NFL Network and will continue to host the NFL's signature events such as The Combine, The Super Bowl, NFL Draft, Hall of Fame Induction Ceremony Weekend as well as any breaking news coverage which would require his services. Eisen will also continue to host NFL Gameday Morning.
To top it all off, Eisen will also expand his podcast into a full-fledged daily show. The Rich Eisen Show will air weekday afternoons from 12pm-3pm after "The Dan Patrick Show" on DirecTV's Audience Network. For non-DirecTV subscribers, Eisen's show will be available LIVE on the NFL's newest video service, NFL Now. The service is accessible online at nfl.com/now and is available on any smartphone as an app.
NFL Now, which is available internationally, has a free service as well as a premium tier which costs $1.99 a month and features archival video from NFL Films. It is not clear if Eisen's show will be available on both tiers or whether it'll be exclusive to premium subscribers. The show will also continue to be distributed on ITunes as a podcast and will not stop Eisen from continuing his weekly segments on "The Dan Patrick Show".
Believe it or not, I'm not finished telling you everything which Eisen will be doing next season. Every Thursday at 6 p.m., Eisen will be joined by Michael Irvin, Marshall Faulk and Steve Mariucci outside of the stadium where CBS/NFL Network's game of the week will be taking place. They'll anchor NFL Total Access Kickoff for an hour and a half on the NFL Network before sending it to James Brown, Deion Sanders and Bill Cowher at 7:30pm on CBS and NFL Network. Eisen and his team will be featured during the 7:30pm pregame show and will also anchor the postgame show on CBS and NFL Network.
Just to summarize all of Rich Eisen's roles beginning in a couple of weeks:
host of a daily podcast on real television and online television (The Rich Eisen Show on The Audience Network and NFL Now)
host of NFL Total Access Kickoff, the pregame show to the pregame show on the NFL Network
host of Mazda Postgame Show, the postgame show on CBS and NFL Network
host of NFL Gameday Morning, NFL Network's pregame show to Sunday's games
NFL Draft host on NFL Network
NFL Combine host on NFL Network
Super Bowl coverage host on NFL Network
Hall of Fame Induction Ceremony host on NFL Network
contributor to The Dan Patrick Show
Good luck getting sleep next year, Mr. Eisen.
MY TAKE: Eisen is a big winner because he expands his presence, the NFL is a big winner because they keep the face of their network on staff but the biggest winner is DirecTV. The satcaster is slowly but surely building up arsenal to take on ESPN and Fox. They may not have any sports rights......yet, but there's no question to me that if certain things work out, The Audience Network could be another national sports network in a couple of years.
My theory on this is that once AT&T finishes their acquisition of DirecTV, they're going to want content. Guess which content company is available at the right price? Time Warner. AT&T buys Time Warner, rebrands The Audience Network as Bleacher Report TV and moves NBA and MLB games to the network with Rich Eisen and Dan Patrick as the biggest stars of the network.
If this were to happen, it's a long way from conspiring. The biggest reason why DirecTV is the biggest winner is because the NFL has sent a signal to everyone else that they're most likely leaving "NFL Sunday Ticket" on DirecTV's dials. They wouldn't let their network's biggest face get his own show on the satcaster if there wasn't a deal which was imminent.
In my opinion, this was the most innovative deal I've seen in sports media since Sirius/XM was able to convince Mad Dog to stay by offering him a television show on the MLB Network, which also happens to be partners with Sirius/XM.
Moving forward, I doubt Eisen's show will erode Jim Rome's ratings or sports talk radio ratings in general but I do wonder if it poses any threat to Mike Francesa's already stagnant ratings on FS1 or ESPN Radio's "SVP and Russillo" simulcast on ESPNEWS or to any of the local radio shows which simulcast on RSNs across the nation during that same period such as Michael Kay on YES in New York.
UPDATE:
You can add
Fox/Clear Channel to the list of Rich Eisen's employers
. Eisen will now be competing on the radio against Jim Rome, Doug Gottlieb, Paul Finebaum, Mike Francesa, Scott Van Pelt/Colin Cowherd.