One of the world's most famous athletes is breaking ground on a new project he hopes will bring sports fans closer to the players they adore and root for.
LeBron James, Maverick Carter and James' company Springhill Productions are collaborating with Turner Sports' Bleacher Report to create a new website known as
"Uninterrupted."
According to
James' own respective website
, "Uninterrupted" will give fans "direct access to hear and see what their favorite athletes have to say, straight from the athlete" with no commercials or pop-ups.
More likely than not, this site should remind you of Derek Jeter's venture known as
The Player's Tribune
. Just like Jeter's site, "Uninterrupted" will give players a chance to be their own primary sources without reporters playing the role as middleman. The only difference is that these first hand accounts are on video rather than in text and they last between 1-2 minutes, which is longer than the time limits enforced on popular video sharing apps such as Instagram and Vine.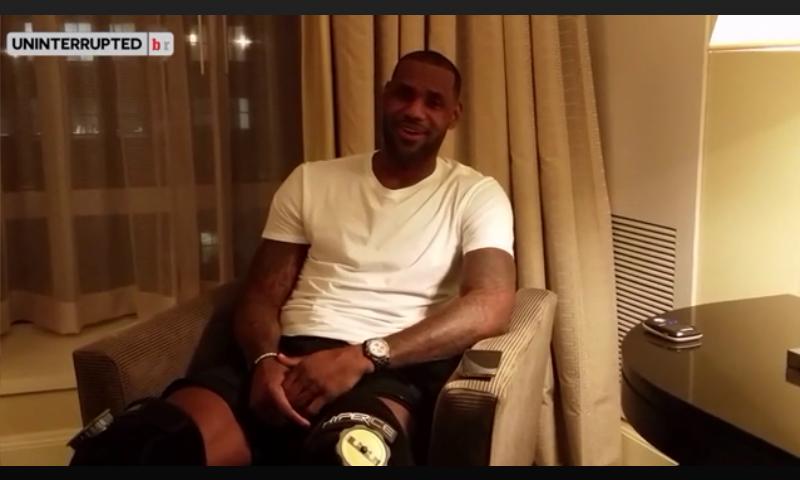 LeBron James featured on Bleacher Report's new initiative "Uninterrupted"
Despite the threat it poses to journalists, NBA reporters seem to have embraced the new idea. CNN reporter
Rachel Nichols
and ESPN NBA reporter
Dave McMenamin
have each tweeted out clips from the site in the past. Turner Sports has also developed a strong relationship with the NBA's best player, who sat down for lengthy interviews with NBA TV and CNN
during All-Star Weekend
in 2014 and
before the 2014-2015 season started
. "Uninterrupted" only strengthens that relationship.
The site, which launched it's
Twitter account
on January 8th, began with a soft launch on
December 14th, 2014
. Johnny Manziel filmed a video discussing how pumped and ready to go he was before his first NFL start as the quarterback for the Cleveland Browns against the Cincinnati Bengals. Unfortunately, his time on the field didn't go well as the Browns were shut down 30-0 and just like all the hype surrounding Manziel that weekend, his reflection video disappeared.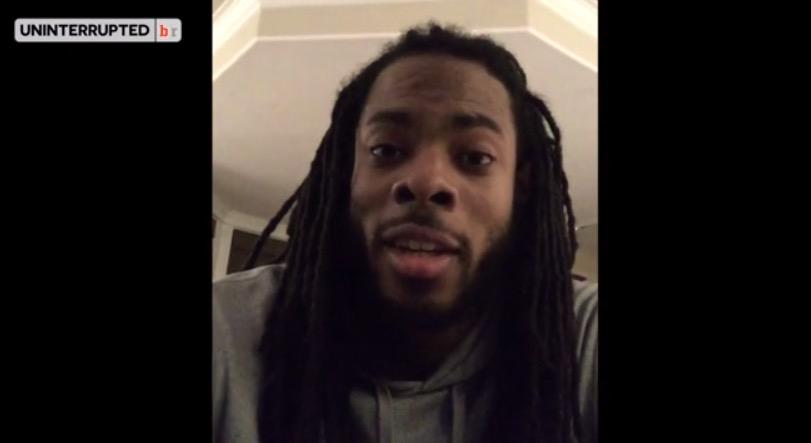 Richard Sherman on Bleacher Report's new initiative, "Uninterrupted"
LeBron James became the first face seen on his new website in it's current iteration. In a video posted on Christmas Day 15 minutes before he stepped into his team bus, James reminisced on the fun times he had in Miami playing for the team he was about to face for the first time since he left.
The videos on the site appear to be shot using mobile devices which has affected the quality of some of the content posted. A video diary from Johnny Manziel reflecting on his rookie season, for example, is shot vertically rather than horizontally, leaving major chunks of black space on Manziel's left and right side. The lighting on the video is also not the best as you can see below. At times, sound is also hard to hear and lower than the typical high-quality TV show or online video you would watch.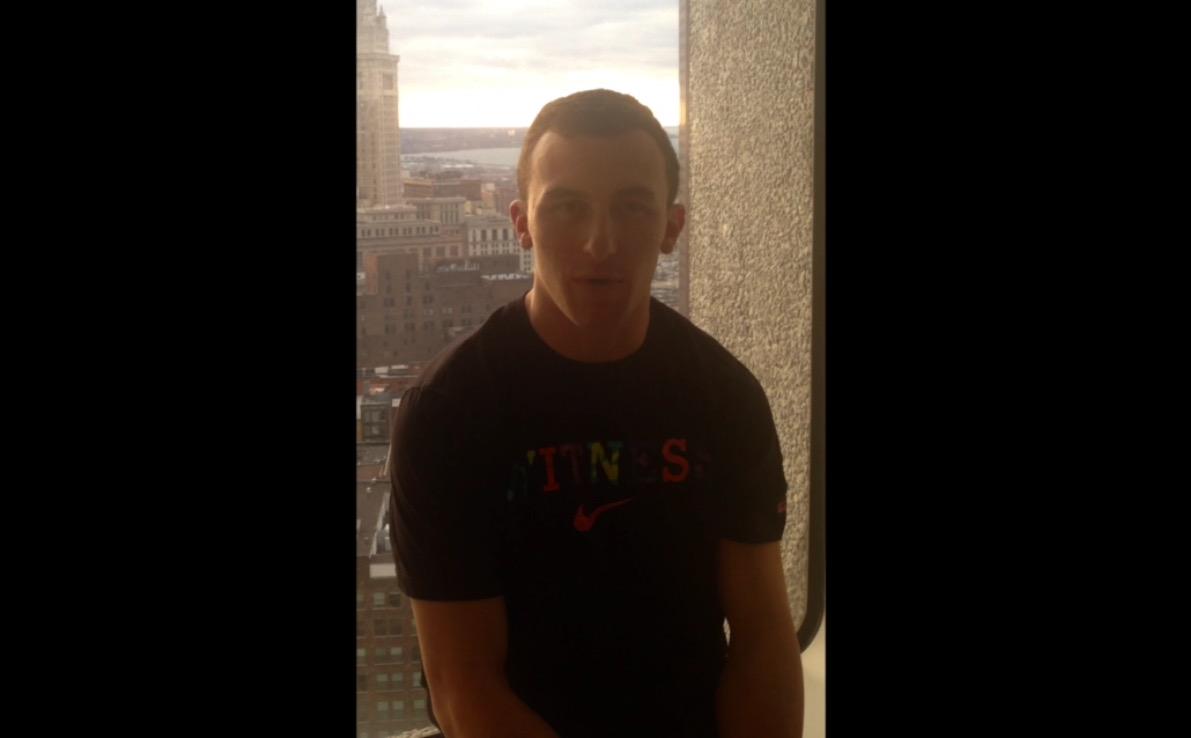 Manziel in his hotel room before the Browns' last game against the Baltimore Ravens, as seen on Bleacher Report's new initiative "Uninterrupted."
Athletes who have been featured besides Manziel and James include Carmelo Anthony, Richard Sherman, Victor Cruz and Odell Beckham Jr. It is unknown how each person was chosen or which athletes should be expected to appear in the future but it's no secret that all of the selected players have some type of affinity to James.
Manziel
is signed to James' management group
, Anthony and James are well known best friends and Sherman
was defended by James on Twitter
after the Seahawks cornerback faced criticism for his hostile interview with Fox's Erin Andrews (Sherman also had
a previous relationship with Bleacher Report
).
#UNITERRUPTED http://t.co/R0pVOX7ASC via @BleacherReport
— Johnny Manziel (@JManziel2) December 30, 2014
Meanwhile, Cruz is signed to James' friend's sports agency (Jay Z and Roc Nation) and told USA Today that he knew he
"broke through"
when James tweeted about him, and Beckham Jr.
looks up to James
as one of his
role models
. It also helps that each of these athletes are signed to endorsement deals with Nike, James' long-time partner.
My brother @carmeloanthony opens up on his current state of mind right now. http://t.co/yFteL8Dcg2 #UnInterrupted #ThisIsMelo
— LeBron James (@KingJames) January 6, 2015
If you're expecting news to break on this new platform, change your expectations. James did reveal via video diary before Tuesday night's game against the Phoenix Suns that he was returning after missing a couple of weeks of play and Anthony hinted to fans that he could miss the rest of this season. But based on the other posts online, it doesn't appear that star players will use this stage often to give news about their own careers. This is more about athletes giving their personal reflections and connecting with fans on a human level.
As of now, this new venture does not appear to have affected Bleacher Report's reporting on any of the athletes chosen especially LeBron James and Johnny Manziel, who have both been mired in mini-controversies since this venture came into fruition. Turner Sports' interactive sports hub has covered Manziel's
"putrid start,"
and rumors surrounding
his habits off-the-field
while LeBron's
struggles on the floor
, rumors of
his early departure
and the Cavaliers
struggles
have also been extensively covered.
A major advantage of teaming up with Turner rather than starting on the site on your own is the promotion they can provide during NBA telecasts. James' website was first revealed during the Christmas day edition of "Inside The NBA" on TNT.
This isn't the first time Bleacher Report has worked with athletes to form a platform under their banner. The website also works with TXN Sports, a group of ex-athletes turned TV analysts, to produce an online series known as
"Behind The Mic."
The show, starring Phil Simms, Cris Collinsworth, Boomer Esaison, Howie Long, Cal Ripken Jr., Nick Faldo and other analysts who work for Turner Sports, originally aired on Sports Illustrated's website but moved to Bleacher Report after it was acquired by Turner.
"Uninterrupted" is just one of the many things which the Cavaliers All-Star is working on to expand his media brand/empire.
"Survivor's Remorse," described as a dramedy by the Washington Post, just finished it's first season on Starz TV
"Becoming," is a sports documentary series aimed for kids about the childhoods of some of the world's biggest athletes. It airs on ESPN's sister channel, Disney XD.
"Rehab Addict," a home building show on HGTV, featured James' foundation
James' animated series, "The LeBrons" continues to exist online
James is slated to star in two movies helmed by Kevin Hart and Judd Apatow respectively
So far, social media buzz about James' new online venture has been positive:
@BleacherReport loving the whole #uninterrupted portion of the website! Rlly lets you see players without the involvement of the middle man
— Peter Kersich (@PistollPete11) January 13, 2015
.@BleacherReport is changing the game with this #Uninterrupted series.
— cyle (@cyle1116) January 12, 2015
Bleacher report should make a YouTube page for #Uninterrupted ✊💯 good stories and updates !!!
— SG (@sgalvin_) January 9, 2015
@BleacherReport thank you for these #UNINTERRUPTED videos.
— #ramsnation (@__dreg) January 9, 2015
.@BleacherReport definitely has a good thing going with their #UnInterrupted video segments! #keepinnovating
— James Hicks (@jameshicks) January 14, 2015
We'll see as the site develops, whether the quality of videos changes. We'll also have to wait and see if this site ever intends to make money or whether Bleacher Report is paying LRMR for access to these athletes in exchange for more traffic to their site (LeBron's video announcing his return was the number one clicked story late Tuesday night).
NOTE:
JMan's Media Zone first covered "Uninterrupted" back on
December 30th
. Our speculations seem to have been correct.