120 Sports - courtesy of applenapps.com
When analyzing the state of television in 2014, many question how the decades old medium will be able to compete against new digital frontier which is attracting younger audiences with shorter attention spans. Even though live sports is dominating television ratings, the same question can be asked about about a genre which saw exponential growth in the way it is covered via online video.
As we enter a new horizon in the media landscape, figureheads in the sports industry from team owners to athletes to television rights holders and other media outlets are trying to figure out ways to adjust and prepare for the disruption which the internet and technology is causing in our lives.
The biggest story involving online sports video's emergence in popularity was the rise in league-owned over the top networks as covered by
Sports Business Journal
in August. Major League Baseball, NHL and the PGA Tour teamed up together with Sports Illustrated to launch 120 Sports, the NFL launched NFL Now and the NBA announced their intentions to start it's own over the top network in conjunction with ESPN.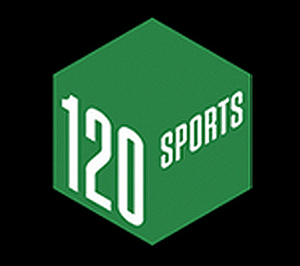 Courtesy - Folio Magazine
120 Sports
, based in Chicago's Harpo Studios, serves as a long-form sports talk show on video built specifically for mobile devices. Each discussion on the network is designed to last between 1:20-2 minutes in order to give viewers as much information and debate as possible while they're on the go or surfing the web on their phone.
The network has received major ad placement during White Sox games (Sox owner is also a co-owner of 120 Sports) and is featured on Sports Illustrated and MSN's homepages. It uses social media to determine discussion topics and has an array of young hosts who can connect with the target millennial audience. The online network even has rights to show MLB, NHL, PGA and NBA highlights but unfortunately has no rights for any live games.
Courtesy: AppTrigger
NFL Now
is more or less the same as 120 Sports. The digital network geared towards football, which I've covered on this site, produces snack-bite segments about the latest on-goings in the NFL and also posts clips from segments seen on NFL Network, Inside the NFL & CBS/NFLN's coverage of Thursday Night Football. Recently, the network also added original live programming based around NFL Network personalities including a coaches shows with Brian Billick and a daily talk show produced by DirecTV for Rich Eisen.
The NBA's new over the top network with ESPN
is one of the most intriguing ventures to watch over the next year or two because unlike 120 Sports and NFL Now, the OTT network will broadcast live games. It was formed as part of ESPN's contract extension with the league and will feature 20-30 NBA games per season beginning in 2016. Details about what the network will be called and what will air on the network are expected to be announced in 2015.
Speculation is that ESPN will include other games from other sports leagues it owns rights to such as Major League Soccer although nothing has been confirmed. It'll be interesting to see if the NBA plays as much of an active role in this network as the NFL does with NFL Now or if it takes a backseat like MLB and the NHL with 120 Sports.
Leagues and organizations who don't have as much clout as the one's mentioned above also set their grounds for live streaming.
WTA, the women's tennis league,
and
PBR (Professional Bull Riders)
signed their own respective deals (PERFORM Sports Group and CarbonTV) to launch video streaming portals, 92 international sports unions signed with Euronews to
create their own edition of SportsCenter
which would be distributed on television and on YouTube, the IOC announced
their own over the top network
while the WWE and
UFC
launched OTT nets in
the beginning of the year
. MLS even got into some action serving as a launch partner for Conde Nast's
The Scene video player
(MLS Digital
recently visited NASCAR's HQ
= something brewing in 2015?).
Eversport.TV
also
emerged as an aggregator
for various sports competitions such as Asian soccer, NCAA College Hockey regular season matches and New Zealand rugby. Eversport.TV even reached an agreement with video curator
Pluto.TV
to distribute the Central American Games on two specific dedicated channels.
YouTube
played a bigger role in the sports world in 2014 through a multichannel network known as
The Whistle Sports
. The biggest sports MCN on the biggest video platform in the world signed tricksters and athletes with mass followings such as Dude Perfect, the Harlem Globetrotters, Brodie Smith, TeamFlightBrothers and Los Angeles Lakers point guard Jeremy Lin in order to grow their fan base. They are now experiencing immense growth and popularity among millennials and recently received an investment from media conglomerate
Sky
.
I wouldn't be surprised if this network was acquired by Disney, Time Inc., Hearst, Time Warner, Fox or another media company looking to reach young males that are into sports. The network has connections with the big leagues including the NFL and has steady viewership which is attractive to advertisers.
Athletes themselves also continued to contribute to the digital video ecosystem.
Charlie Villanueva started his own vlog following his life as an NBA free agent for his first person blog on SportsBlog.com,
Vice Sports
followed various athletes around to witness the experiences they go through and Bleacher Report recently launched a new initiative known as
Uninterrupted
in which athletes record a vlog using a mobile device to reflect on their season and what's happening on the field.
So far, LeBron James and Johnny Manziel are the only two participants and it is not known whether the vlogs are part of a deal between B/R and Nike or B/R and LeBron's LRMR or if Manziel and James were specifically asked by B/R to participate with no affiliation from a third party. No matter what the case is, there's no doubt we'll be seeing more athlete participation in digital video in 2015 especially as more ventures
like The Player's Tribune come onto the scene
. As I said in
my 2015 predictions
, I wouldn't be surprised to see a multi-player owned-and-operated video project launched soon. We might also see a company like Gatorade or Nike launch a more aggressive behind the scenes all-access video campaign featuring their signed athletes as well.
Non-sports sites such as
Torrential.TV
, a
mobile advertising company
and
AOL
also used sports to bring attention to their platforms. Torrential launched
a show
specifically targeted for mobile users which gave NFL athletes a minute to document what they do during their off days while AOL sought to find America's next great sportscaster.
Vine continued it's rise as a home for sports highlights
as they happen on Twitter and for the first time, we saw television rights holders become agitated at the app's popularity among fans. ESPN and Univision asked Vine as well as rivals
who used World Cup footage
in creating GIFs to delete anything which they didn't ask permission to use.
This will spark up an ongoing debate into 2015 as to whether those Vines and GIFs are protected under fair use as well as whether they drive up viewership or hurt the investment rights holders like ESPN and Univision make. Another question to be asked is if rights holders are not happy with Vines and GIFs being created by rivals and fans at home, why not create them yourself and fit the demands of young consumers?
I can't end this look back at 2014 in online sports without recognizing
TMZ Sports
. Their video of Ray Rice violently hitting his then-fiance garnered millions of views and dominated the nation's watercooler talk for months. There's no greater example of how much online sports video played a role in competing against sports television than that video.
All sources linked: WSJ, Fast Company, Sporting News, Sports Business Daily/Journal, LA Times, Twitter, VideoInk