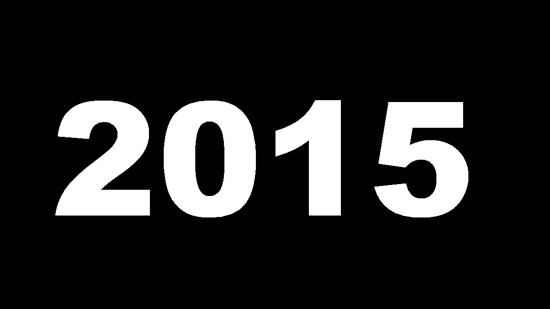 2014 was
an amazing, trans-formative year
in the world of media. My prediction? 2015 will be even crazier! I'm excited to see all of the new things which take over our lives in sports media, news media and entertainment media. Before you read this, let me warn you that alot of the things predicted here will be totally random, out of the blue and all over the place. Click
here
to see what I got right and wrong in 2014.

1. Univision will spin off into an IPO - I don't think there's any company which Univision fits into. The companies that Univision does fit into don't have enough room in their portfolio for them.

2. CBS Radio will sell all of their radio stations or spin them off - CBS needs money if they want to acquire another company or merge, the best way to get that money would be to remove their radio stations.
3. Disney will not spin off ABC - BUT, they will enter into a joint venture with another company to operate O&Os.
4. "Kelly and Michael" repeats will be aired on a cable network
5. ESPN and Univision will move some sports properties to Fusion - The ABC/Univision joint venture needs programming which can draw young viewers.
6. Tribune will acquire a stake in the CW Network - Peter Ligouri has stated in the past that he's not happy with The CW's performance. What better way to fix that than to be directly involved?
7. Starz will be acquired by a large conglomerate
8. Sinclair will launch NewsChannel8 nationally via cable or multicast
9. Syndicated television shows will make a move to smaller cable networks in need of original programming - Access Hollywood and TMZ have already moved two of their shows to ReelzChannel, we'll see other syndicators make the decision
10. Station groups will continue to produce original syndicated programming that serve as a local-national hybrid
11. NBC will debut a new graphics package for the Winter Classic and Super Bowl - NBCSN has already used new graphics for their college hockey and basketball coverage
12. Universal Sports will shut down after NBC decides to leave the venture. - IOC's new OTT network will partner with NBC to broadcast Olympic sports on NBCSN and the OTT network. NBC will help IOC market the network just as they do with the NHL Network but will not take an ownership stake. The OTT network will live on NBCOlympics.com in the USA and NBC News or Peacock Productions will help IOC produce documentaries for the network.
13. Pivot Network will shut down their linear network and become an OTT network, partner with a conglomerate to market itself better.
14. Fusion will become a more powerful online news source but lose more clout on its linear service - Fusion will shift away from news and will be filled with hours of ABC News, Univision and ESPN documentary repeats, YouTube shows moved to television.
15. Vice will launch a 24/7 news network in conjunction with A&E
16. HLN's social media rebrand will not work and the network will dabble into reality television. They may also sub-license time to HuffPostLive - OR the network could be acquired by AOL while continuing a news-sharing agreement with CNN + re-transmission negotiations alongside Turner networks?
17. CNN will venture into scripted programming about historical events - potentially acquire off-network rights to House of Cards.
18. MSNBC will invest in different types of programming including documentaries, concerts, lifestyle shows, advocacy shows, and entertainment. Ronan Farrow's show will be cancelled with Farrow becoming an online reporter for MSNBC.com - This has sort of already happened after MSNBC's recent announcement of their own digital video network.
19. Fox News will stay the same, might add some Christian values programming
20. Al Jazeera America will take more of a political stance, possibly add opinion hosts

21. A major media company invests in an online video satire news network to compete with Comedy Central - Funny or Die has launched a news division, they could heighten their video production in this department in 2015 or someone else may decide to jump in
22. CNN enters the podcast game
23. Alisyn Camerota to "New Day," Kate Bouldan to "SOTU"
24. Jon Stewart joins CNN - continues to make fun of CNN relentlessly
25. Jimmy Kimmel loses ground to Stephen Colbert in the fall
26. Jimmy Fallon and The Tonight Show launch their own video portal - posts videos from the show before YouTube, extras not available on YouTube, archive clips from Late Night and clips from Jimmy Fallon's new show on Spike TV. If not their own video portal, NBC sells online rights of Tonight Show to an exterior website who gets access to video before YouTube. Fallon will also make a play for some type of ownership.
27. Tonight Show repeats air on Esquire Network, Jimmy Kimmel also sells repeats to a cable network

28. GMA will continue to dominate Today Show - NBC News will make some on-air personality changes to the show
29. ABC launches an extra hour of "GMA." - They could either move "Kelly and Michael" to 10am or ABC stations could choose to not renew Rachael Ray or they could re-brand "The View" at 11am or the extra hour of "GMA" could live on a cable network

30. The NFL will opt out of contract with CBS - but will re-sign a longer deal with The Tiffany Network; the deal will include NFL games airing on CBS All Access app and an ownership stake in the app for the League.
31. The NFL will add two new wild card playoff games which will be sold separately between rightsholders. - CBS/NFL Network will take one game, ESPN will take the other.
32. NBC renews rights to Premier League soccer
33. ESPN and Fox acquire Big Ten rights together - ESPN commits some marketing resources to BTN and BTN2Go
34. WatchESPN and Fox Sports Go create joint portal
35. Howard Stern leaves Sirius to launch an online startup - show changes to podcast format recorded in the afternoon
36. Bill Simmons stays with ESPN
37. ESPN launches an ACC Network - Raycom remains ACC's digital partner. ACC Network affiliates turn to Sinclair's American Sports Network for programming
38. World Cup will not change locations, Fox will be forced to sublicense games to ESPN
39. ABC Family will be re-branded
40. Twitter will launch its own video player - blocking out all of the other Twitter video clients. Sports rightsholders will sign deals with Twitter to launch feeds specifically for video highlights, GIFS, Vines of games. Rightsholders will also create segments specifically for Twitter. (The NFL did this with Twitter before launching NFL Now) Rightsholders will also claim copyright whenever highlights are posted without permission on Vine
41. SportsCenter or Fox Sports Live will launch mini-editions of their shows for Snapchat
42. Media companies will repurpose content and produce new content exclusive for Snapchat and Twitter
43. Keith Olbermann will anchor an episode of SportsCenter
44. HBO's subscription service will malfunction when it starts, will contribute to a decline in Netflix subscribers
45. AXS TV merges with another entertainment network - OR aligns itself with a conglomerate to gain more carriage
46. Ann Curry leaves NBC
47. American Idol goes on hiatus
48. Hillary Clinton will announce she is running for President on social media/YouTube - conduct her first interview with Univision/Fusion's Jorge Ramos
49. Advertisers will begin to produce multiple television programs for cable networks - Under Armour is already helping to finance a high school sports online network and an exercise block on NBC Sports Network, we'll see more of these types of partnerships beyond sponsorship
50. Television advertising will continue to take a downturn as online advertising emerges
51. Showtime and HBO partner up for Pacquiao/Mayweather PPV on May 2nd in Dallas, Texas - undercard simulcasted on CBS/TNT/TBS; major promotion during March Madness including a contentious interview between the two during Final Four pregame show
52. CBS talks to Viacom and Time Warner about merging, buys Lionsgate. Alibaba buys Sony.
53. Yahoo finds a way to air Katie Couric's news programs on television through CNN, Fusion or HLN
54. CNN Center is used solely for CNN International and Turner Sports, all HLN and CNN programming move to New York - Studios are leased out to another media company, Turner Sports builds a bigger studio for NBA TV and NBA.com.
55. Amazon moves Twitch into a subscription format
56. Roc Nation gets into television and film production
57. Keith Olbermann finds a way to return to politics

58. Ryan Seacrest leaves NBCUniversal - launches his own digital network in conjuction with IHeartMedia, stops hosting on the red carpet but continues to produces shows for E!
59. Simon Cowell re-launches X-Factor OR launches another franchise online - The You Generation hasn't gotten much buzz so Cowell may have to team up with another MCN network or TV network to gain viewership
60. Robin Meade and Nancy Grace will leave HLN

61. Nikki Finke and TMZ expand their coverage to Washington, D.C. - TMZ breaks a major political story about the 2016 election
62. The National Enquirer/Radar Online owners increase video - This could include new YouTube channels or a TV pilot
63. Imus announces his retirement
64. Showtime will launch an OTT subscription service

65. Jim Rome will join The NFL Today - Bart Scott and Boomer Esaison will be removed. Scott will go back to CBSSN, Esaison will return to calling games.
66. If CBS renews TNF, they will re-do the studio team - James Brown will stick around but they may go with a rotating set of analysts.
67. Facebook will expand digital video
68. Vessel will provide some extreme competition for YouTube

69. The Young Turks will get increased investment or possibly acquired - They will also make a return to television
70. Major athletes partner together to start their own social network/app or media company - Derek Jeter and Sage Rosenfals have already launched their own websites, SportsBlog.com is based on athlete blogs but I think we'll see big marquee name stars from different sports teaming up to do something of their own. I wouldn't be shocked if LeBron James or Dwyane Wade were involved either. James, who is growing his website, and Johnny Manziel recently vlogged for Bleacher Report while Wade helped produce a documentary about the Miami Heat's championship which appeared on his own site. The closest we've gotten to this predicament is Grabyo, but the athletes involved only invested in the software and don't have any editorial or ownership roles with the company.
71. ESPN will produce programming from a non-affiliated network - It will be a network that isn't owned by Disney.
72. MSNBC will change their graphics package
73. Dan Patrick will be named as Alex Trebek's replacement on Jeopardy in 2017, Patrick leaves Sunday Night Football and is replaced by Josh Elliott - Patrick will contribute essays and will continue to host his radio show and host NBC's Olympics coverage
74. Sports Jeopardy will air on television via Game Show Network or a sports network
75. Mike Francesa will move to MSG TV
As I think of more predictions, they'll be posted here.
76. Stephen A. Smith will re-sign with ESPN
77. Jamie Horowitz will join Fox Sports 1 - He will re-do the network's afternoon lineup and replicate it after ESPN2.
78. Rex Ryan will be fired by the Jets, sign with ESPN as a Monday Night Football commentator
79. Yahoo will not merge or get acquired by AOL or anyone else, Marissa Mayer gets one last chance to prove herself
80. A live network centered around YouTube stars will launch - it will most likely be an online equivalent to HSN or QVC.
OPEN.tv
and QYouTV are two examples of these types of channels launching but they aren't full fledged yet.
81. The networks above alongside newspapers, apps and digital website will all delve into creating more personalized newscasts on mobile devices.
82. Facebook and ABC News will strengthen their relationship and increase the reach of ABC's videos, ABC News' GoStream and Nightline video venture will help the network grow it's user base online.
83. NBC News will launch a streaming network similar to CBSN which is based around the "Today" and "Meet the Press" franchises.
84. HuffPostLive will find it's way on television in 2015
85. BuzzFeed will enter into a partnership with ABC News that benefits Fusion. They will also increase their live streaming videos.