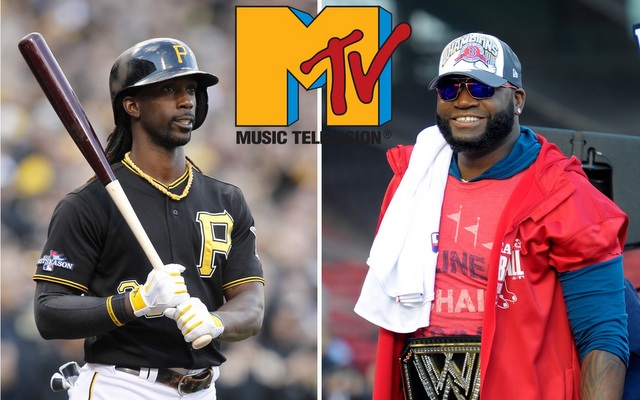 MTV and Major League Baseball have come to an agreement to become content partners. The main proponent of the deal is a brand new weekly show based out of the MLB Man Cave which mixes pop culture and baseball. The show would air on MTV2 (which has broadcasted sports in the past and is aimed for guys) and would be executive produced by Andrew McCutchen and David Ortiz, who are responsible for convincing baseball stars to come on the show.
SMART DEAL: This is a great deal for both sides. MTV2 continues to expand it's original programming through this deal and make it's distinction from MTV more defined while MLB is starting to find a way to reach the young demographic which has failed to connect with baseball as much as it does with basketball and football. The deal also helps MLB's biggest stars become more well-known. Star power is the biggest key to why the NBA has been so successful because the young demographic has stars they can connect with. The same can't be said for baseball. This MTV deal also could give MLB access to a deal with Nickelodeon in order to attract kids.
RADICAL IDEA: MLB Advanced Media has begun to go into live event production, recently acquiring the rights to the Global Citizen Festival. MTV and MLB could possibly become co-production partners with MLB assisting in providing venues while MTV provides the TV space to broadcast potential live concerts. This makes sense especially because live events are one of the few guarantees to a high percentage of viewers left in the TV industry. They could also partner to start a sports division to MTV which covers the off-the-court/field side of athletes in all different types of sports, similar to what this show will already be doing.
MLB ON MTV?: Finally, I would even encourage broadcasting a baseball game on MTV once a year except, make it more of an event than a baseball game. Make sure players and managers are wearing mics the whole game, put a camera inside a player's hat and have two hardcore celebrity fans partnered up with a young, exciting baseball announcer calling the game. During the game, you could even have behind-the-scenes vignettes playing side by side with the action on the field and you could even turn it into a reality show and have the players pulling pranks and challenges on each other throughout the game. During the 7th inning stretch, have another celeb singing "Take Me Out To The Ballgame" and an in-game concert. Explain some rules of the game to fans who wouldn't know much about it and make sure the game is eye-catching both graphics wise and broadcast wise. Even include social media and let players tweet, post IG photos and Vine during the game and interact with fans. Traditional baseball fans will HATE this idea, but if you get the right people together then it could work. This exposes more young people to the game in a fun, interactive way.
AOL has a brand new show which follows athletes as they get tattoos and takes an inside look at how the tattoos define them and what they mean. The show, "My Ink," has already featured Ray Rice and is a really good idea which is different from what we normally see on sports TV. AOL will be trying to keep viewers of the show on their site by automatically playing related videos from ESPN's telecasts after an episode of "My Ink" is over.
This is a good idea to keep viewers on your site but I think the strategy should be working the opposite way. AOL should be trying to convince ESPN to play segments from their show on "SportsCenter" and "NFL Live" in order to garner viewers in the first place. If you're not a daily AOL visitor, the likelihood you will know about this show is slim to none.
2K Sports, which doesn't even have a deal with ESPN like AOL does, recently used this strategy to get viewers to check out their social media pages. 2K got an exclusive interview with Michael Jordan (which was used to promote NBA 2K14) and gave ESPN the video to use as a segment on SportsCenter. As people were tweeting about the segment played on SC, they also discovered 2K Sports' Twitter account which linked to more YouTube clips of the interview. The video featuring 4 minutes of the interview has now surpassed a million views.
Keith Olbermann has been causing a stir in the sports world recently after starting a brawl with WFAN and it's personalities who believe Olbermann has no right to talk about the Incognito controversy because he's a bully himself. Unfortunately though, not that many people have been watching Olbermann's smart and well thought out commentaries.
Because ESPN broadcasts so much live sports, a lot of times there isn't enough room for Olbermann's show to start on time at 11pm on ESPN2 or ESPNEWS. Also, because Olbermann's YouTube account doesn't get much promotion, views on the page only average between 20,000 and 50,000 views which is pathetic considering the fact that ESPN is putting a lot of money into their latest venture with Olbermann.
The KEY to why Olbermann is even back at ESPN is because ESPN wants to do everything it can to thwart Fox's ratings (and to some extent NBC and CBS as well). If there's only two options for sports highlights at 11pm, then it's possible that Fox is able to cut in deeply into SportsCenter's ratings and become the clear alternative. But with a 3rd option, viewers who are looking for something different from SportsCenter have more than 1 option which makes Fox Sports Live less of a threat.
Based on Fox Sports Live's ratings so far though, it looks like Olbermann's services weren't needed as much as it was perceived to be at first. SportsCenter still has an overwhelming lead over FSL and it'll probably remain that way for a while.
With that being said, Olbermann hasn't done splendid in the ratings either because he hasn't had a constant timeslot for viewership to get used to him. In my opinion, it's unfair to Olbermann and it makes it tough for him to ever really succeed on ESPN2. So here's my radical idea.
RADICAL IDEA: It's time for ESPN to become a producer for another network. Keep Keith Olbermann in the ESPN family, keep the show at ESPN's studios, keep ownership of the show itself and keep all the ESPN producers and ESPN talent surrounding the show where they are BUT move the show to another none-ESPN network. Olbermann's job is mainly to split up viewership among viewers who don't want to watch SportsCenter but he can't do his job successfully if he's never on at a time period which is consistent. If you move his show to a none-ESPN network which always has the 11pm timeslot open and isn't a direct competitor and you provide the show with promotional support during ESPN's other shows then it would do so much better than it's doing now.
Networks such as Spike TV and TruTV would be perfect for this sort of venture. Both networks dabble with sports and both have a younger male audience but neither is a direct competitor to ESPN. Younger males will cling to Keith, even if he's not in their age group, if he's stern with his opinions. If you also promote the show during ESPN's morning block and during live sporting event on the air then it's very easy to succeed. After the show has played on the none-ESPN network, then replay it throughout the night on ESPN2 as soon as their live sporting event is finished. You could even put the show in a late night block together with a similar formatted show for Jason Whitlock.
Olbermann discreetly expressed displeasure about his constant struggle with a timeslot, tweeting: "Reminder: we're preempted tonight for the college hoops marathon. So you can start NOW trying to figure out when/where we're on, Tuesday" Whether Keith wants to say it or not, you can tell he's frustrated. With a move like this, you provide fans with a constant alternative to SportsCenter, mess with FSL's viewers, spread the ESPN empire beyond ESPN (just as parent Disney has done by giving it's movies to Netflix rather than starting it's own movie network), and you can do this all while not enabling a direct competitor.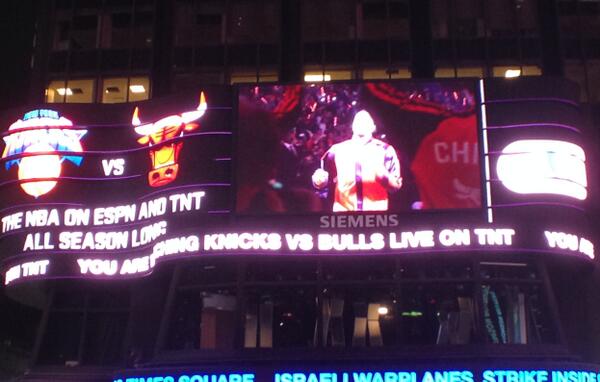 ESPN and TNT recently did an amazing job cross-promoting each other and their NBA coverage. The crew at NBA on TNT did a live hit on "SportsCenter," Charles Barkley did an interview with Chris Berman at halftime of Monday Night Football on the eve of the NBA season, ESPN's Mike Breen joined the panel on the TNT pre-game show (ESPN had a PR person tweeting and taking pictures live from TNT's outdoor NYC set as Mike Breen joined the panel), NBA TV's Dennis Scott and Steve Smith made an appearance on ESPN2's "Numbers Never Lie" and ESPN even telecasted TNT's Thursday night broadcast on ABC's big board in Times Square.
This got me thinking, could ESPN and Turner bid TOGETHER for the NBA rights coming up in order to keep other threats such as Fox away. Based on the cross-promotion from the 1st week of the season, it seems like both companies are comfortable with each other. And as far as we know, they did all this without the league prying them to do so.
RADICAL IDEA: It would be great to see ESPN and TNT cover the NBA TOGETHER in the next rights deal. Partnerships between sports TV companies don't always work as we saw with "The Baseball Network" from the 90's with ABC and NBC but sometimes they do work like what Turner and CBS do every year with March Madness. It would be great to see more Turner analysts on ESPN enhance their coverage which is typically very weak. Vice versa, a lot of the video content which Grantland produces on the NBA fits perfectly with NBA TV.
The potential combination of studio teams would be great. Imagine Jalen Rose and Chris Webber in the same studio. It would also help broaden the opportunities offered to broadcasters on both ESPN and TNT/NBATV. If George Karl, Doug Collins and Avery Johnson want to an analytical coaches' show, there's enough space on NBATV to do so. If Charles Barkley wants to do a college basketball game with Dickie V, it's much easier to do it on ESPN which has a grand library of games. In order to spice things up, once or twice a month ESPN and TNT analysts and hosts can even switch places. The opportunities are endless.
It would be great to also see the Finals split between ESPN and TNT. ESPN and Time Warner already have a history of working together. When Ernie Johnson had cancer, Mike Tirico was volunteered by ESPN to host TNT's 1st and 2nd round coverage of (I believe) The British Open. ESPN and HBO also have a deal to cross-promote HBO's big pay-per-view fights. Also every year, ESPN produces NBA TV's coverage of the NBA Draft Combine.
Whether they partner with each other or not, I think at the very least, we will probably see Charles Barkley and Dickie V do a game together sooner rather than later. Wouldn't it be cool if both of these entities became such good friends that they even let Dickie V call a couple NCAA Tournament games?
The network is owned by media investor,

Jeff Sagansky, who has a major stake in entertainment companies which broadcast content during airplane flights. I think the network is a good idea but unless you're able to get really famous, well-known analysts who bring an audience with them, then I doubt this is going to work. It sounds like a HuffPostLive-style 24 hour conversation about various fantasy sports. This format would work well online but it's not intriguing enough to exist on TV.
In my opinion, if you want to start a sports network anytime soon, you have to invest in a product involving sports which gets viewers other than sports fans interested. A 24/7 sports network with nothing but relevant, quality sports movies and documentaries and some high-quality sports talk and news shows in the vein of "Real Sports" and the old Bob Costas HBO show could work, for example. You'd be able to attract families interested in inspirational stories, people interested in historical events and intelligent sports fans in need of quality sports journalism.
If HBO ever started a sports network which debuted brand new documentaries, brand new sports movies, quality sports reality shows like "Hard Knocks" and paired all that up with new episodes of "Real Sports", classic sports movies, other investigative sports news shows and other weekly panel and talk shows discussing taboo topics in sports; I personally think it would achieve the rarity of garnering decent ratings without the need for live events. (If possible, ESPN should team up with HBO and re-brand it's ESPN Classic network into "HBO Sports" and feature the best of ESPN's "30 for 30" series AND HBO's vast library of sports programming. Guarantee it would rate higher than ESPN Classic currently does.)
Another possibility for a possible sports network would be something dealing with reality shows based on all aspects of life surrounding sports. Females would love the drama and males would love all the access to their favorite athletes.
Anyways, sports documentaries/movies are the way to go if you're looking for a new way to attract sports viewers, not a 24/7 fantasy talk network. People love nostalgia as well as a chance to learn new things surrounding their favorite sports athletes. Look out for Epix as well as Netflix to cause a stir in the sports documentary industry.