UEFA Champions League bidding has started and according to reports from the
Sports Business Journal
, the contenders include:
ESPN
FOX
NBC
BeIN/Al Jazeera
But, could Discovery Channel become a surprise bidder in this competition? Now, you're probably asking, Discovery Channel? That makes absolutely no sense. But actually it does. Discovery owns a network aimed at males known as "Velocity" which broadcasts mostly non-fiction reality programming about cars and once in a while broadcasts European car races from sister station, Eurosport.
(SIDENOTE: Eurosport is a sports network which Discovery owns a 20% stake of in Europe that focuses on niche European sports such as racing, tennis, cricket and Australian football. It also operates and manages a couple of race events all over the world. The reason Discovery owns a percentage of the network is because Discovery can package their own channels like Animal Planet and TLC with Eurosport to cable operators in Europe. The operators have to carry Animal Planet and TLC and pay a fee for them if they want to carry Eurosport, which is popular among European sports fans.)
With the most popular European sporting event up for grabs here in the U.S. and with experienced European infrastructure already in place via Eurosport, it might be smart for Discovery to step in and acquire the rights to help increase the viewership of Velocity's programming. It might even make sense to rebrand Velocity as "Eurosport America".
Discovery would up it's ante when it came to negotiating for fees with cable operators and would attract a different crowd of advertisers than it's used to if it got into the game of live sports. Broadcasting live events isn't anything new for Discovery either (Felix Baumgartner jump, Grand Canyon walk) and the idea of getting into sports broadcasting is also something which isn't new for Discovery.
Discovery's TV division in Denmark, Sweden and Norway recently
won the rights
to broadcast European soccer qualifiers on their networks and at one point in time, Discovery was in talks with the ACC to start their own TV network centered around ACC basketball and football. Because of it's history and it's allegiances, a European sports network in America centered around UEFA soccer, motosports, European niche sports and non-fiction male programming wouldn't be that far-fetched and would probably garner better ratings than what Velocity currently gets.
(SIDENOTE: It wouldn't even be that far-fetched if Discovery got UEFA soccer rights and sublicensed over-the-air rights to NBC in exchange for F1 racing, some EPL games and/or promotion because NBC and Discovery have aligned together on many things in the past. A potential Velocity/Eurosport network wouldn't be a direct competitor to NBCSN because Discovery would probably still want the main focus of the network to be non-fiction programming since UEFA soccer airs in the afternoon and nonfiction shows are Discovery's forte for all it's networks.)
BUT................
this is all VERY unlikely to happen because the CEO of Discovery Communications faced these questions already and he stated the
following:
When Discovery announced last December that it would buy a 20 percent stake in Eurosport for $220 million, CEO David Zaslav said the company didn't plan to launch a U.S. sports network. "The U.S. sports business is completely different," Zaslav said, pointing to the "huge checks" networks have to write to acquire sports programming. "I don't see us getting into that business in the U.S.," he added.
Just in case it does happen though, don't say we didn't tell you so. Surprise bidders always come out of left-field.
Steve Bornstein is one of the most powerful names in sports media. He is said to be responsible for helping ESPN become the huge brand that it is today. He also helped lead the NFL's media strategy in growing the NFL Network and extorting as much money as possible from potential NFL TV partners. He'll be leaving his job as the head of the NFL Network next year and word has surfaced of where he might be going next.
Peter Chernin, a television/movie producer and former head of Fox and CVC Capital, a management firm which owns F1, have teamed up together to bid on IMG, a sports talent agency. They've enlisted Bornstein as their main adviser and plan to name him the CEO of IMG if they win the bidding competition.
Throughout Bornstein's history, he has gone to television networks and helped them advance their purpose and grow from their beginnings. He did that with ESPN just as they were rising in the 80's and he also did that with the NFLN as it was rising from it's early steps of launching. So why move on to a sports agency?
It could be a couple of things. Maybe, he just wants to try something new and different from television. Or maybe the master plan is to turn IMG into a major content provider for sports programming. IMG already produces a couple of shows which have aired on regional sports networks in the past and it also helps produce global feeds for FIFA and EPL soccer games.
Will IMG begin to create sitcoms, reality shows, talk shows, dramas etc. centered around their clients/athletes and spearheaded by Bornstein, who has experience in many different facets of television? I think it's a possibility because sports and the stars which surround it are becoming more mainstream now than ever before. Let's also not forget that Peter Chernin is a major Hollywood producer and could easily create franchises centered around sports superstars who are also IMG clients like Peyton Manning, Tiger Woods, Roger Federer, Rafa Nadal etc.
These types of programs would fit perfectly on regular general entertainment networks. They might even possibly fit on regional sports networks or even one of the newer national sports networks which all have major holes to fill when there's no live programming. IMG could become one of the top notch producers of programming in no time as long as they don't force concepts on their clients and the ideas make sense.
Could Chernin and CVC desire Bornstein's services to launch their own sports/entertainment network? The likelihood is slim to none because most sports rights have been signed and go into the next decade. Also, the amount of sports you can sublicense from the ESPN's and FOX's of the world is slim because they have an array of networks which need to be filled. It wouldn't make sense for ESPN or FOX to sublicense games to a potentially new IMG sports network if there are timeslots in their own networks which aren't filled up yet.
But it should be pointed out that IMG has a lot of rights to shoulder programming from various schools and conferences and as mentioned before it has a lot of athletes which they could use to launch new programming for a potential network. They even have an online sports network centered around college athletics known as Campus Insiders which is focused on the same type of analysis and opinion you would get on ESPN and could serve as training ground for potential talent.
(SIDENOTE: Maybe Bornstein moves IMG, in the vein of Campus Insiders, into digital broadcasting for the benefit of it's clients? YouTube's first sports network with studio shows, reality/entertainment shows and games powered by IMG? In the past, Bornstein has pointed out that it's tougher to launch a sports TV network nowadays)
At the end of the day though, IMG has too many relationships with the establishment right now to go on and start it's own rival outlet so once again, the chances of this happening is slim to none. I guess time will tell as to whether Bornstein does end up running IMG and if he does, whether the company transforms from a sports agency to a sports media content provider with a sports agency business on the side.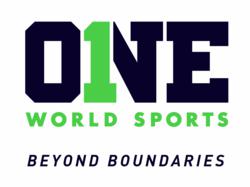 One World Sports recently got rave reviews for their broadcast of the Uruguay/Jordan FIFA World Cup qualifier. I'm not sure how much money OWS has in their arsenal but if BeIN grabs the rights to the Champions League, BeIN may need to sublicense other sports content which it owns the rights to that conflicts with the Champions League. Look out for One World Sports as a potential destination.
The Whistle is a sports website aimed at kids who are also sports fans. Their main goal is to provide a behind the scenes look of what's it's like to be an athlete in professional sports as well as instructional tutorials for different sports. The NFL, NASCAR, PGA, Major League Lacrosse, Peyton Manning, Derek Jeter and a couple of other organizations/athletes all own minority stakes in it and also produce content which ends up on the website. The website also has a show which airs sporadically on the NBC Sports Network, Fridays at 3:30pm.
I believe this is a good idea. I watched a couple of clips from the website and found them to be interesting even though I'm not the target audience. They do a great job of NOT dumbing down things just because they're trying to reach kids. Kids may be young, but they aren't stupid.
The problem with this site is that I'm pretty sure there's not that many kids who visit it. They don't visit it because they don't know about it. The Whistle needs to align itself with a kids broadcaster so that it gets promoted well whether that means Nickelodeon, Disney, Cartoon Network or even AwesomenessTV becoming an investor/partner. Putting a show on NBCSN makes no sense because kids don't watch NBCSN.
Even if you don't team up with one of those entities, at least make sure you advertise heavily on all of those networks so that you raise awareness for your brand among your target audience.
Also, the content which The Whistle churns out needs to be syndicated throughout the internet more because if it's not then it'll never get exposure. The NFL and NASCAR are minority owners in the website so there's no reason why segments from the website aren't featured on NFL.com, NASCAR.com or even during the NFL Network's pregame shows or NASCAR pregame shows.
My cousins, who are the target demo for this type of programming, only watch NBCSN if there's a reason too. The likelihood that they'll be watching NBCSN at 3:30pm on Friday is slim to none compared to the likelihood that they'll be watching NBC's FNIA pregame show which is before the NFL game or even the NFLN's pregame shows.
Turner does an excellent job of promoting the Bleacher Report during it's broadcasts seamlessly. Recently during "Inside the NBA", a Bleacher Report correspondent did a taped segment about the past week in the NBA with a comedic twist. It was a segment which was relevant to the NBA and promoted B/R.
The NFL, NASCAR and other partners in this project might not have as much incentive to do this kind of promotion because unlike Turner's relationship with B/R, they aren't majority owners of The Whistle but if you take the time to build the website into a top notch destination maybe it'll eventually become something you're interested in taking a larger stake in and can make money from.
With the concussion issue and parents telling their kids to stop playing football, it's vital that the NFL invests in the kids' demographic and keeps their attention. If Rome fell then even the NFL can fall if they don't take the kids demographic seriously.