Bold signifies new subject.
In an unannounced move, ESPN has decided to compete with Sunday afternoon NFL coverage on CBS and FOX in a different way. In the past, ESPN aired replays of "World's Strongest Man" and poker, but this season they've decided to simulcast ESPN Radio's NFL talk show which airs simultaneously from 1 to 7pm as games are being played.
The show isn't any different from what the NFL Network does as games are being played. Scores, stats and analysis is discussed during the show except unlike the NFL Network's show, you can actually see the faces of the talking heads. This new show now gives football fans more than one choice for halftime and post game analysis of whatever game they're watching.
The only difference is that on ESPN, you'll see the faces that're talking together with the stats and scores; on NFLN, you'll only see the scores and stats with audio from talking heads providing reports and analysis from SiriusXM studios and on CBS or FOX, you'll actually see highlights.
It's very interesting to me that ESPN continues to increase NFL content and almost mirrors NFL Network if you look at it's schedule. NFL Network (and MLB Network) serves as ESPN's biggest threat as of right now (not FS1, NBCSN etc.) because of it's ability to garner the second biggest amount of carriage fees from cable providers.
NFLN, ten years from now, could provide ESPN major competition in the race to acquire Monday night football and if NFLN takes on
MLB's newest strategy
and NFL Films' old strategy of expanding programming beyond their sport then who knows if NFLN could become a future strategic partner with someone else to acquire major college football rights, entertainment programming featuring football stars or even other sports, who may not have any relation to the NFL but could use the network's reach to expand their sport.
You can add Chad Ochocinco to the list of NFL media pundits. In the past, Ochocinco has contributed to the media via his old "T.Ocho Show" (featuring Terrell Owens) on the first incarnation of NBCSN known as Versus and through the website named after him known as OCNN.
But now, Ochocinco has become a full-fledged member of the CBS Sports family. The famed wide receiver will mostly be featured online for the most part, giving fantasy picks on a show known as "Fantasy Football Today" on CBSSports.com every Sunday at 11am and he'll be doing live halftime shows for every single game on the website as well.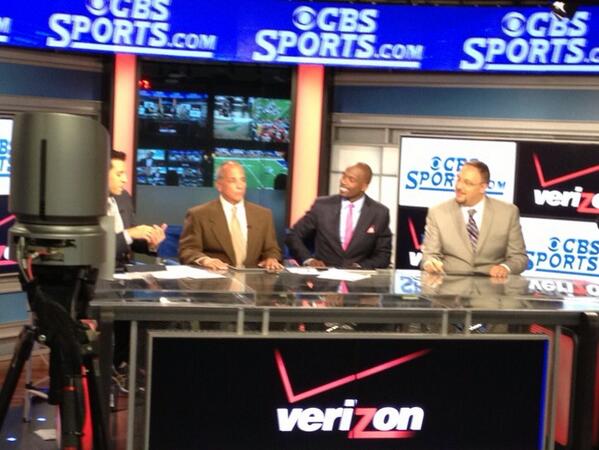 The only time he'll be featured on TV is during 2 minute hits on CBSSN's pregame show known as "TOPS" which will also feature the rest of his panel from the "FFT" show. It doesn't look like he'll have any part on CBS broadcast network's football coverage as of now but this is a win-win for CBS and Ocho because CBS can promote it's online venture more through Ocho's 3 million Twitter followers while Ocho has something to do besides sitting around waiting for a team to sign him.
If Ocho wants more time on real TV though, he needs to become more opinionated. He had a pretty soft debut and didn't say anything groundbreaking which had people talking. The only way he moves from online to TV is if he's controversial, which might be hard for him to do since he's trying to keep a lower profile than usual after his domestic violence bout.
There's no word how long the deal lasts and I'm sure if a team signs him mid-season, it'll be much easier for him to transition because he's on an online-only show. I would encourage CBS to strengthen it's relationship with Ocho and maybe create an urban niche for it's website (to compete with Whitlock's future ESPN site) by bringing OCNN (currently produced by Motorola which isn't a content company) on board as a mini-site inside the CBS Sports empire similar to Grantland/ESPN. You could even bring Robert Littal of Black Sports Online on board. He already has a built in base and syndicates his content to the current OCNN site.
A lot of new hires were added on to many different networks this year and based on what I saw this morning, I would have to say Amy Trask was the best hire. She was unashamed to give her opinions and showed a lot of swag throughout "TOPS" on CBSSN. She wasn't afraid to tell the host to lower his volume or speak on how much she hates the Tuck Rule and didn't seem like the "timid woman who would be scared to talk about a man's sport".
Ray Lewis was also a great hire by ESPN. I assumed this would be another Emmitt Smith who wouldn't be able to breakdown football plays. But Lewis actually sounded very intelligent, broke down X's and O's solidly and didn't stick to the emotional conjecture we're all used to hearing from him. There wasn't much of Preacher Ray, it was more Coach Ray which is what is necessary for this platform.
Some other new additions this year that I liked: NFL Network's new set, CBS' new NFL graphics, Bleacher Report's new pre game show, Ochocinco on CBS Sports' website, ESPN's scores and analysis show during the games, Yahoo's fantasy show, Randy Moss on FOX NFL Kickoff.
FOX NFL Sunday on the main FOX broadcast network was live from Times Square in the season opener and I would argue that maybe it should be there every week. And if not FOX NFL Sunday, then more of these sports pre game shows should be in Times Square or at least on location somewhere. It made the show feel more authentic, unpredictable and less stuffy because of the scenery, the interaction with fans and the inclusion of John Lynch and Erin Andrews after they had finished working the Jets game which almost felt like cousins coming over for family dinner.
Canada's beloved sports duo not named Jay and Dan are currently free agents. Tas and Skeets from the critically acclaimed basketball podcast, "The Basketball Jones," are looking for a new outlet to cover basketball. To me, this is a great opportunity for the NBA and Turner to acquire even more young fans to the game of basketball.
If I was a part of the NBA Digital team, I would form a new YouTube trendy basketball channel around these two which was similar to KickTV, a YouTube trendy soccer channel which has become a big hit among soccer fans.
KickTV focuses on the culture of soccer. It showcases FIFA videogame competitions, tours on location of where key matchups are happening, BuzzFeed type lists of interesting soccer tidbits, replays of cool plays, flashback of great moments in soccer history, quick recaps of soccer news all around the world, mini skits and analysis from fans who are not former players (with the exception of Jimmy Conrad).
A network like this with basketball is totally possible and with "The Basketball Jones" as your centerpiece, you would already have a built in audience. You would be able to give diehard fans some entertaining content and you would create a magnet for new fans to come in.