Matt Lauer wrote an interesting piece for Esquire Magazine
(which happens to be NBC's newest partner, starting a new cable network launching in October) describing how he felt about the media's coverage of the Ann Curry fallout. Even though it's almost been two years since the incident happened, its something which still haunts Lauer and in a way has made him fatigued at his job. Whenever I get a chance to watch "Today," I can see it in Lauer's body language and lack of humor that he's not excited to be at work as much as he used to be.
Even in this piece he wrote, he admitted that the last two years have been a tumultuous time for him. "Incredibly frustrating and challenging" is how Lauer describes it. I don't know about you but to me, that type of language doesn't sound like someone who is eager to keep his place as an anchorman of one of television's most dynamic shows in the history of television for much longer.
Based on reading this article, as well as new reports that NBC is considering dropping
Carson Daly's late night show Last Call
, or giving it to a new host; I've come to my own conclusions about the future of the "Today" show.
I have no sources for this and I don't know anything that is going down anytime soon, but I think we're experiencing the last days of Lauer is an anchor of the "Today" show. I don't see Mr. Lauer anchoring the show anytime past the end of this year. Lauer will help the team transition into a new studio next week but coming soon, the preeminent anchor will announce his resignation from the show.
Willie Geist, who is great friends with Savannah Guthrie (the future of "Today"), will replace Matt while Carson Daly will take over for Willie during the 9am hour while also continuing his duties hosting "The Voice" and NBC's New Year's Eve celebrations. The show would most likely also add in Tamron Hall as it's chief national correspondent and heir to the newswoman throne (similar to Natalie Morales' role before Curry was promoted to co-host). Where does that leave Matt Lauer?
According to this article which Lauer wrote, the anchorman makes nowhere near the $25 million which has always been his reported salary. Whether that's the amount of money he makes or not, what can't be disputed about reports on Matt Lauer's contract is that it's a long term deal which will last for at least 3-5 more years.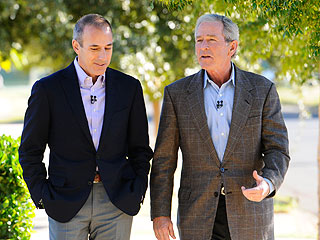 Because of this, it's very unlikely that Lauer would leave the NBC family. I believe that the most likely result will be to give Lauer his own weekly or monthly primetime interview show with newsmakers in the vein of some of the past specials he has done for the network with Steven Tyler and President Bush.
I also wouldn't be surprised if NBC tries to steal Kelly and Michael's throne as the king and queen of daytime TV for Matt Lauer and Meredith Vieria's taking. I'm sure Vieria has seen the turmoil which new daytime talk show hosts have gone through (Kris Jenner, Jeff Probst, Ricki Lake, Anderson Cooper, Bethanny Frankel), and because she doesn't want to go through that same fate, she may be more inclined to give in to partnering up with her old friend.
Television is a copy cat industry and it's surprising to me that despite the many variations of "The View" which exist, that no one has tried to copy "Live with Kelly and Michael," which has been at the top of the charts since the duo came together one year ago.
We'll see what happens, but one thing is for sure. It's time for "Today" to move on from the Ann Curry debacle and the only way to do so is to wash it's self of all major factors in the conundrum. Two thirds of it is gone (Jim Bell, Ann Curry) but now the final piece to the puzzle may also need to be sacrificed in order to salvage the show. If the show doesn't get younger and more likable quicker, then don't be surprised if Charlie, Gayle and Norah catch up.
If I'm "GMA," I wouldn't be worried about anything any time soon. Despite the new set and an increase in ratings for the "Today" show, the television staple still seems to be in the shadow of the Times Square crew which always tries to stay as hip and cool as possible. Now that Robin Roberts (the most loved personality in television news) is back full-time, expect the lead to get even bigger.
The biggest factor which could help "GMA" though, is a guy in Hollywood by the name of Jimmy Kimmel. Kimmel has done a lot of great work integrating new media and old media.
The twerking fail video is a perfect example of that.
Not only does Kimmel continue to serve as a subject for "GMA" to talk about, but in the literal sense, he helps "GMA" because once viewers turn off Kimmel at night, they wake to "GMA" on their TV sets as the first show they watch in the morning.
With Jay Leno leaving, Arsenio Hall reaching a more diverse demographic and David Letterman becoming more stale as he gets older, the #1 spot for late night is up for grabs come February. Kimmel will have a huge advantage over Fallon due to viewers being used to seeing him at the 11:35pm timeslot and he will probably become the undisputed king of late night because of that.
Who would've thought 10 years ago that ABC would be the king of mornings and late night? It's been NBC's territory for so long that no one thought they could be stopped. If the Alphabet Network finds a way to make their primetime schedule more competitive then the sky is the limit for the network.