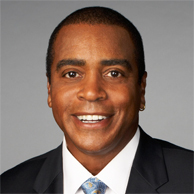 Earlier this year, Ahmad Rashad's old television show "NBA Inside Stuff" returned to television. Now, the former Oregon running back is making a return of his own.
Rashad didn't leave television permanently after ABC cancelled his "NBA Inside Stuff" successor ("NBA Access") and Ernie Johnson replaced him on NBA TV Fan Night. He hosted a couple of interview specials over the years for NBA TV during All-Star Weekend as well as after the Finals were over.
But for the first time since 2009, Rashad will once again become a weekly fixture available on television sets all over America especially if you have DirecTV.
Rashad will be hosting and executive producing his own primetime interview show for a new golf lifestyle TV network launching in September on DirecTV known as Back9Network. The self-titled "Ahmad Rashad Show" will take a behind the scenes look at the world of golf with interviews featuring golfers, newsmakers and everything in between.
The 64-year-old Emmy Award-winning sportscaster, who is expected to continue his duties with NBA TV, had been working diligently before this announcement despite the lack of his own television platform.
As late as January, he was hosting a
"Where Are They Now?" sports podcast
and also recently hosted a question and answer session featuring Kevin Durant live from the Newseum in Washington, DC on
Nike's YouTube channel
. He also did voice overs for "Sprint's The Crossover" segments which aired during ABC's coverage of the NBA Finals.
Rashad has established relationships with Tiger Woods, President Obama and many other celebrities and athletes. Don't be surprised if you see them as guests on the program which will look to be the golf version of "Oprah's Next Chapter."