Before Ben Sherwood became president of ABC News, he woke up each and every morning watching "SportsCenter" with his son.
In a story told vividly in Brian Stelter's "Top of the Morning," Sherwood recalled watching his son become fascinated with one of the hosts during the 9 a.m. edition of the television institution. Sherwood's son began to recite sports stats and became even more of a sports fan because of the impact which a California native had on him.
Josh Elliott hasn't always been a rising television star. When he first started his old gig at ESPN, he served as the host of a flailing show known as "Classic Now," whose aim was to make the ESPN Classic network relevant to today's sports fan. The show eventually got cancelled and ESPN Classic is no longer a linear network.
ESPN moved him to their new morning editions of "SportsCenter" alongside TV vet Hannah Storm and the rest is history. Influenced by his son, Sherwood recruited Elliott to ABC News and placed him in the newsreader role at "GMA".
Elliott was credited for helping "GMA" beat "Today," it's arch rival, in the ratings and he expanded his role on ABC serving as a host for a short-lived but successful daytime talk show, a co-host of The Rose Bowl Parade and the lead substitute for George Stephanopoulos on "GMA".
With Sherwood recently being announced as the new head of operations at ABC, it would have been assumed that it was only a matter of time before Elliott also ascended to an even bigger role on the network. Unfortunately, fate had a different ending.
Due to his salary demands not being met, Elliott chose to sign a new deal with NBC Sports. This is a huge move which helps bolster the NBC Sports roster but it's also being looked at as a mechanism to further weaken "GMA" after NBC also poached former weatherman Sam Champion and gave him his own morning show on The Weather Channel.
Many questions arise with this new deal:
1. Who replaces Elliott on "GMA" and will "GMA" suffer? Amy Robach will serve as Elliott's replacement effective intermediately. Luckily, viewers are already VERY familiar with Robach because of the frequent substitutions she has made on the show. She was also the show's main correspondent during the Olympics.
As
Alex Weprin points out in Capital New York
, "GMA" relies heavily on a team-based formula. The show isn't led by one or two single individuals but rather a team (each person has their own segment(s) throughout the show). Because of this, the show has a hefty bench with viable candidates to replace the anchors currently in place if they ever leave.
If Elliott and Spencer had left at the same time, I would've been worried about the show's stability but because Robach has worked so often with the rest of the tandem when Elliott is off, I doubt the show's ratings will see a major impact.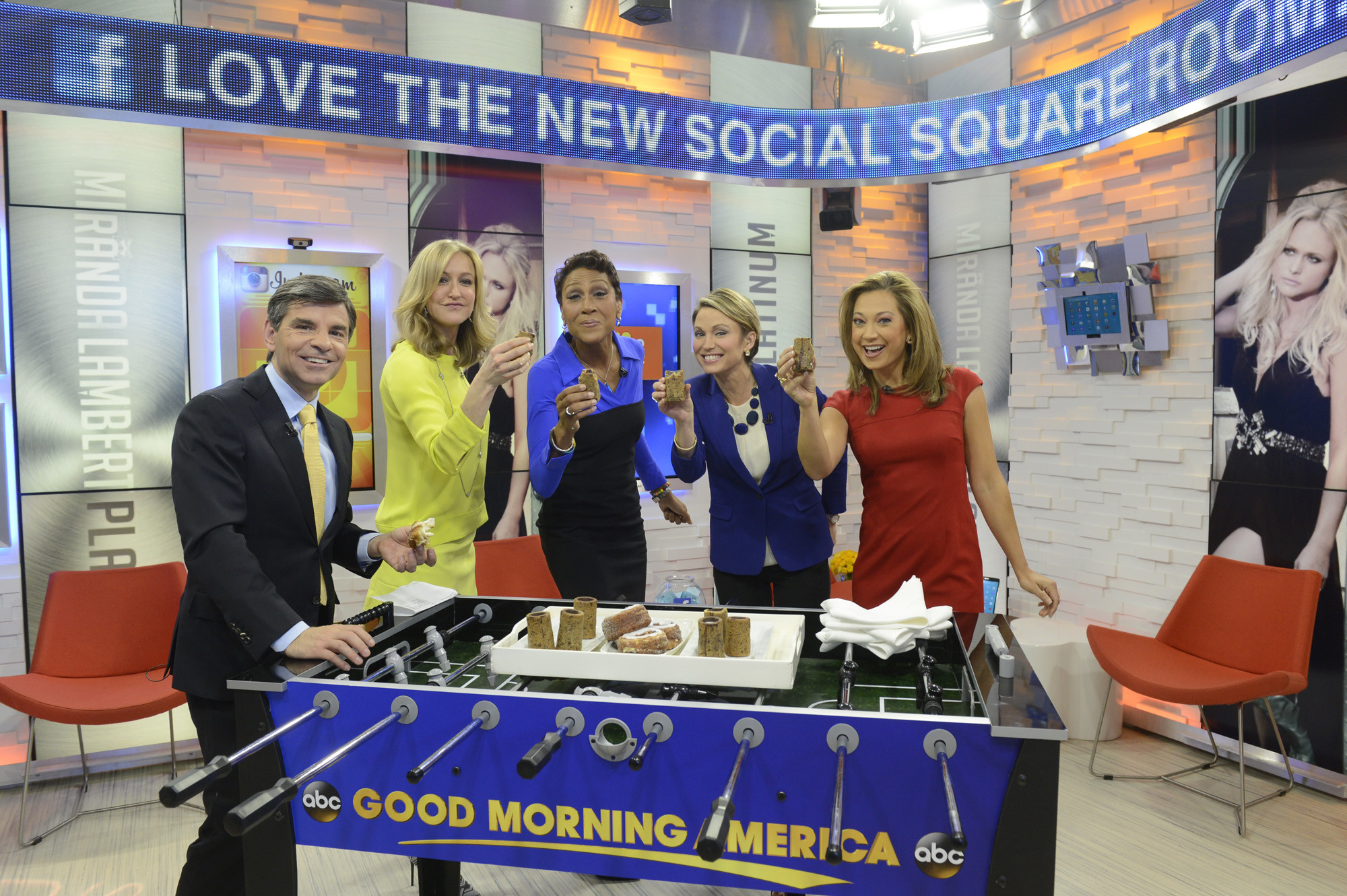 When "GMA" announced their new social media initiative, the "new" anchor team just happened to be in place that day.
2. What will Elliott be doing at NBC Sports?
In the last article I wrote about this ordeal, I mentioned how I didn't believe there was enough room for Elliott on
the sports bench at NBC.
Dan Patrick/Bob Costas co-host "SNF," Liam McHugh hosts Notre Dame football and NHL hockey, Rebecca Lowe hosts EPL soccer, Dan Hicks hosts golf and calls ND football.
Well, apparently I was wrong. Elliott will be contributing to Olympics coverage, Sunday Night Football and Triple Crown horse racing. Although no specifics have been provided yet, my hunch is that Elliott will be named as an in-studio co-host of "SNF" alongside Dan Patrick (a similar role to what Olbermann did before he left NBCU). He'll probably do feature pieces and breakdown plays with "SNF" analysts while DP anchors and calls highlights.
I would also expect him to serve in a reporter capacity for the Olympics and Triple Crown horse racing. Other potential spots to see him (predictions): Sports updates with Sam Champion on The Weather Channel's "AMHQ," a rotating host on NBCSN's 12 p.m. sportscast "SportsDash".
I highly doubt NBCSN will start a daily show for Elliott to host on his own (but I could be wrong). NBCSN has found more success in afternoon shows which are geared towards niche sports (such as NASCAR and the NHL) rather than a general sports talk show.
Even before Michelle Beadle and NBC started to disagree with each other, there was talk that her show would be cancelled because it was EXTREMELY low-rated (all of NBCSN's afternoon shows are low-rated but her show was beneath the threshold).
Fans who want generalized sports shows trust ESPN and ESPN2 too much to let their loyalties slip away. And with FS1's acquisition of the Mike Francesa Show as well as the increase in original video content on various sports websites, all the viewers left who would watch a potential Elliott talk show are gone for the most part.
3. What does the future hold for Elliott beyond NBC Sports?
"Today" but just not today. Elliott has a six-month non-compete clause which means he can't appear on "Today" for six months. NBC was in talks with Elliott to make him the newsreader at "Today," which according to
CNN's Brian Stelter
, would put him "in line to succeed Matt Lauer".
Don't be surprised if this is the eventual move Elliott makes six months from now.
Stelter
pointed out to me
on Twitter that this move is about the "long-term". If you've ever watched Elliott before, whether you like him or not, you can't doubt his talent and versatility when the red light comes on and he's on-air live.
He does his job with such poise and has an indescribable "it factor". Just recently, when Malaysia's Prime Minister announced that it was believed there were no survivors in the tragic MH370 missing plane saga, Elliott was placed at the helm as the lead anchor of ABC News's special report.
As Matt Lauer and Bob Costas's roles at NBC wind down, Elliott emerges as the top contender to take over for one or both of them. Unlike other possible contenders for either role, Elliott has on-camera experience as a news and sports anchor.
4. What does this mean for Willie Geist and Liam McHugh? It's common knowledge that Geist and McHugh have been the top in-house candidates to take over the helm for NBC's two biggest franchises ("Today" and The Olympics) once the reign of their current hosts come to an end. If Elliott takes over one of those jobs or both of those jobs, where does this leave Geist and McHugh? There's a possibility that NBC loses one of them OR both of them in the next 5 years (Geist recently signed an extension with NBC but could leave whenever it expires).
In my opinion, it's more likely McHugh leaves than Geist and here's why. There's still room for Geist to increase his workload on MSNBC if the 7 a.m. "Today" gig doesn't work out next year (he would still be the lead anchor at 9 a.m.) and he would be a potential candidate to anchor "Nightly News" whenever Brian Williams leaves.
McHugh, on the other hand, is already the lead anchor of major events (Stanley Cup, Tour de France, Olympics) on NBCSN. With sports rights for most major sports leagues locked for the next 10 years, it looks like NBCSN will continue to fare behind Fox and ESPN for a long time which means that if McHugh stays, he'll be stuck working the same gigs he's currently involved in for at least 7-10 years or more. There's no room for him to grow.
I believe it's more likely McHugh decides to leave for a bigger role at ESPN or Fox OR a major payday at a RSN looking for it's lead personality. The only way I see Geist leaving NBC in this situation is if he's offered Charlie Rose's position at CBS (it would be a fun way to continue the Geist legacy at CBS and he would be back with Chris Licht, his old producer at Morning Joe).

5. Who is the new heir to Stephanopoulos's GMA chair? In my opinion, Stephanapoulos will most likely leave "GMA" sometime in the next three years either as the new "WNT" anchor OR as an anchor at another network (his contract is up at the end of the year). Elliott was his heir, but now that he's gone who holds that seat now? Early candidates: Dan Harris, Dan Abrams, Gio Benitez, David Muir (if Stephy is moved to "WNT"), Lara Spencer OR a newcomer from another network.


OTHER MEDIA NOTES -
Chelsea Handler is leaving her show at E!. Her manager tells THR she may look to start a radio show and a late-night show at a competitor or on a digital platform. She would fit in well at Sirius/XM or at PodcastOne. It would be interesting to see her go to a company like Netflix. I wonder how much of a dent she would make if she released new episodes every day at 11 p.m. with no commercials in direct competition with the start times of her cable competitors. Deadline says she's talking to FX. I wouldn't be surprised if someone like Viacom made a bid for her services to help one of their fledgling networks (EPIX or NickMom) or VH1. Turner (HBO), Discovery (OWN) and CBS (TVGN, Showtime) are other potential suitors in my opinion.
CBS Sports has signed a deal with Sony to co-produce a digital series following NFL draft prospects (Tahj Boyd, Jake Matthews, Louis Nix) as they get ready for the big leagues. The show will air on PlayStation consoles, PlayStation's YouTube channel and CBS Sports's website. It's interesting to see CBS Sports form partnerships with various companies to stay relevant among different sects of sports fans w/o becoming overbearing like ESPN, Fox and NBC: college basketball (Turner), pro football (NFL Network/NFL Films), sports video game fanatics (Sony).
Piers Morgan signed off of his CNN show on Friday night. Where is he headed next? It was believed that Morgan would host weekly specials on CNN but it seems like that is off the table now. He doesn't fit in with any other cable news net in existence: conservative (Fox/The Blaze/NewsMax), hard news (AJA/BBC), liberal (MSNBC), alternative (RT America), ethnic (Fusion/Black News Television Channel). HLN would fit in well but where would he be placed on the schedule? This is why it looks like Piers is done with American television, in my opinion.
OZY Media, a trendy news website which was founded by former MSNBC anchor Carlos Watson, has received an investment from German powerhouse media company Axel Springer, who also happens to be in talks with Forbes. Could a merger be brewing between Oxy and Forbes, owned by Axel Springer and led by Carlos Watson?
Yahoo is trying to buy NDN according to the Wall Street Journal. NDN is a video provider which serves video to various websites including newspapers and blogs. This could be extremely beneficial for Katie Couric if she's able to garner major interviews for her new show. If NDN and Yahoo become 1 entity, a big Couric interview could reach the same amount of viewers worldwide which a huge TV interview would reach because the interview would be syndicated to thousands of websites and most likely be featured on Yahoo's front page.
New York radio is taking national television by storm in 2014: Boomer and Carton (WFAN/CBSSN), Mike Francesa (WFAN/FS1), The Breakfast Club (Power 105/Revolt), This is Hot 97 (Hot 97/VH1).
Turner is having trouble filling out the rosters for it's teamcasts which will provide team-centric broadcasts of both Final Four games on TNT/TruTV. Turner tried to hire away local radio personalities to call games but the owners of the radio rights to all four teams which employ the radio personalities (Learfield Communications and IMG College) said no. I have a feeling IMG College might've budged if Turner gave them some sort of extra access to the Final Four to use for it's online Campus Insiders outlet.