Today marked what Roger Ailes is calling a new beginning for the way newsgathering is handled in the newsroom. Fox News Deck launched today with much anticipation but failed results. The brand new studio, which is now in Shepard Smith's hands, features a 38 foot wall and a bunch of huge touchscreen-like monitors which "information specialists" will be using to track down all the latest and hottest news stories. Specifically, these information specialists will be tracking social media to see what's trending and to see what other news outlets are reporting. Then, they will verify the authenticity of stories from other news outlets through their own sources to separate fact from fiction.
The news outlets they'll be tracking will obviously include their direct competition (ABC, CBS, NBC, CNN etc.) but now with the additional usage of social media, they'll also be able to track down the plethora of blogs and brand new news services which continue to pop up everyday and popularize themselves via social media. I personally think it's an intriguing idea, but it's being executed wrong.
Jay Wallace, VP of News, was interviewed for a story which introduced the Fox News Deck and he talked about how viewers' patterns of consuming news were changing. He also spoke on how people nowadays don't sit down and watch TV at a certain hour. All of this is true, but how are you solving those efforts by building a new set with fancy technology for a television audience?
Fox should be using this "Fox News Deck" to build on their digital efforts. Wallace has clearly mentioned that people don't consume news as much on TV anymore, so what sense does it make talking about that but then expecting viewers to tune in everyday at 3pm for
Shepard Smith Reporting.
Fox is on the right track but needs to fix the methodology.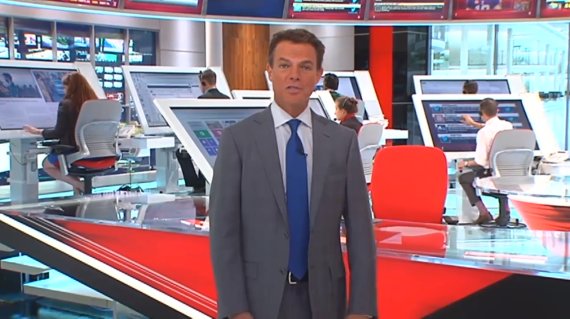 Fox News Deck needs to be a major online enterprise which brings TV-quality news to the internet. Fox needs to create a Twitter, Facebook, Instagram and Vine centered around the Fox News Deck which provides short bits of what's going on in the news. For example, Fox News Deck should have short :15 second Instagram video explaining what's going on with the government shutdown, complemented with a Vine asking viewers to comment on how they feel about the government shutdown.
This company is a perfect example of how you "change the flow of news". Fox has a bigger brand and better technology and could do exactly what they do, but maybe a little better.







All of those videos could easily be hosted on a Fox News Deck Facebook and Twitter page. Putting short bits of news all over a Twitter feed or a Facebook page is the real way you change the way people consume news. It's also a great way to get young people aligned with your product because if they rely on you daily through those short bits of video, pictures and audio through your feeds; then they will more than likely tune into Fox News on their TV's when they hear that breaking news is happening.

This helps make the idea of Shepard Smith breaking in to any program he wanted to, more sensible. Digital and mobile viewers of Fox News Deck's internet feeds would be used to Shep as their authoritative voice for news and would tune in to Fox News because they would have a connection with the face on their TV screen, who they're already used to watching on their mobile phones.
This is an example of the type of format a 24-hour video stream could use.
Segments from Shep's show at 3pm need to be posted online right away as well. Right now on Shepard Smith's homepage, there are only 7 videos from the 3pm newscast posted. There had to be more than 7 stories which encompassed the hour.
Another suggestion would be to have a live 24-hour video stream running on Fox News' website and/or Bing's website (Bing is Fox News' official online partner). This stream should serve as a second-screen component for people watching Fox News and should feature a running raw feed of tweets, pictures and videos being compiled at the Fox News Deck. It should also categorize popular tweets of news events happening between tweets which are verifed and unverified. You could even have information specialists fact-checking what Fox News hosts are talking about while they're on air.
Another easy segment to do would be to research what the top searches on Bing are and fact-check and inform viewers of what is going on in each subject. For example, Miley Cyrus has been trending on Bing for three days straight but for all different reasons. Saturday night, she was trending because of SNL; Sunday, she was trending because of her MTV documentary and Monday, she was trending because of her interview with Matt Lauer. Information specialists should break down those different facets of a trend and post a short video explaining the trends. Things like that easily go viral, get major views and don't require a lot of work. It's the reason why BuzzFeed has been so successful.
The 3pm hour on Fox News should be a summarization of everything that's going on, not the place people should depend on to get their news. Because that strategy will never work. People will always get their news through digital and mobile offerings. Through this new infrastructure, Fox has the ability to take the reins of how consumers consume news digitally but so far it's been nothing but an epic fail.
To be honest, this whole circus is nothing but a way to keep Shep Smith happy so that he doesn't leave Fox. The only thing innovative about it is that Shep has the power to break in to anyone's program to cover a breaking news story in-depth live on-air. Besides that, it barely changes the flow of the news because people are still going to consume news digitally. And unless Fox joins the digital arena more aggressively, then the idea of the "Fox News Deck" just doesn't make sense. It's nothing more than a brand new fancy set with weird, obnoxious technology.