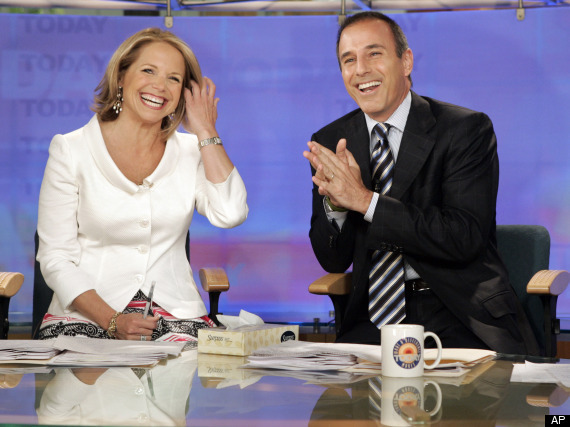 The New York Post
is reporting that Katie Couric is in talks with NBC to co-host "Today" while Savannah Guthrie is on maternity leave. This shouldn't come as a shocker since Couric is going to have a lighter workload after she leaves her ABC syndicated talkshow in June for a position as global news anchor at Yahoo! News.
Last week at a presentation in which Yahoo! pitched their new shows to advertisers, Couric announced that she would be launching two new shows for the online portal. "World 3.0," will feature interviews with Couric and newsmakers while "Now I Get It," will try to explain complicated news stories in short, "shareable" video clips.
Any potential agreement could help both parties. "Today" would be the perfect platform to preview and promote her Yahoo! shows because they're targeting a similar audience. The show also keeps Couric relevant because it's plausible that she'll go into internet obscurity over the next couple of years if she doesn't do this deal with "Today" or another TV outlet (there has never been a TV news star who successfully jumped over to the internet and as Piers Morgan knows very well, it's hard to lure buzzworthy guests for an interview show on a recurring basis). The show also benefits because there will be ratings buzz if this deal comes to fruition.
Interestingly, the story also mentions that Meredith Vieria is in talks to co-host "Today" while Guthrie is off as well. "Today" is attempting to spark some old chemistry and use nostalgia to bring it's ratings up. Will it work?
Why would "Today" be in talks to bring Couric back?
"Today" is only a couple thousand viewers away from taking it's throne back from "GMA," and execs most likely believe that trying to rekindle an old fire between Lauer and Couric will help the show close that gap.
Should Savannah Guthrie be worried about her seat after she's off of maternity leave if Couric brings ratings up?
No way. "Today" has already learned the hard way that ruthlessly removing anchors from their positions in the wrong way to attract viewers. Guthrie is part of "Today"'s future for the long haul. The real question surrounding any moves on "Today"'s anchor desk: Who replaces Matt Lauer? Josh Elliott? Willie Geist? Carson Daly? Ryan Seacrest (unlikely but who knows)?
Will Couric coming back be enough to push "GMA" out of first place?
Probably not. "Today" has picked up it's chemistry again but they're still second place because Robin Roberts and George Stephanapolous's weird pairing combined with Lara Spencer's quirkiness, Ginger Zee's cuteness, Michael Strahan's manliness and Amy Robach's toughness battling cancer are a more compelling watch.
"GMA" gives it's viewers inspiration + entertainment scoop and it's very conversational while "Today" is very newsy and informative. Bringing Couric into the fray won't change much if "Today" doesn't sacrifice it's newsy format for more pizzazz. It's the unfortunate reality of morning TV right now.
Also keep in mind that "GMA" tried to use the same tactic, bringing in Couric to co-anchor while Robin Roberts was off. The result? "GMA" still lost to "Today".
If Couric were to come back, would she actually be co-hosting?
My guess is probably not although I obviously have no sources at NBC so I'm not sure. I would have to guess that she would be a contributor in the same way Strahan contributes for "GMA" right now. She would probably have her own segment and appear 2-3 times a week to joust alongside her good old pal, Mr. Lauer.
I'd also guess that her Yahoo! interviews would get a first look during "Today" if this deal were to go through. In the situation that she is placed as a substitute co-host, I would guess it wouldn't be as long term as the NYP says it could be because I don't think NBC wants to send any message to viewers that Guthrie's throne could be taken by Couric.
I also don't think Natalie Morales, Hoda Kotb or Tamron Hall would be amused if Couric were to sub in more times than they did. She fits better as an occasional contributor.

UPDATE: Multiple reports have come out since the NYP story which this analysis is based on and they all say that she will strictly be co-hosting.
If Couric's Yahoo! shows are aired in some capacity during "Today," what does it mean for Yahoo's relationship with ABC News?
Couric signing on to re-join the "Today" family while playing a role at Yahoo as their global news anchor would be very weird considering ABC News' partnership with Yahoo but it wouldn't be the first weird thing that has transpired since Yahoo and ABC News joined forces.
Marissa Mayer, Yahoo's CEO, debuted Yahoo's new homepage on "Today" despite it's deal with "GMA"
ABC News was recently announced as a partner that will contribute videos to a new rival player from Conde Nast known as "The Scene". ABC News already produces original videos for Yahoo, is that programming also going to air on a rival video player or will "The Scene" use repurposed television segments or will "The Scene" actually get new original programming of it's own which won't be available on Yahoo's site? If it's the latter, how weird would it be for ABC News to be producing new videos for one of Yahoo's rivals?
Yahoo is partnered up with NBC Sports and CNBC for complementary sports and business programming.
Despite all of this, it's highly unlikely that ABC News' partnership with Yahoo is on the rocks because they still mutually benefit from each other (
They signed an extension in 2013
). "GMA"'s website has never seen more traffic and Yahoo has original video produced by a legitimate content provider with clout. They're also the #1 news site in the world as a combined entity.
Unless ABC News has something else lined up with BuzzFeed or Google or another major online powerhouse, it's unlikely that a potential Couric-"Today" reunion is a sign that ABC News and Yahoo are breaking up. The New York Post also points out that Couric's Yahoo shows are not covered in Yahoo's deal with ABC News.
Could this lead to another future venture for Couric with NBC?
If Couric and Lauer can re-ignite their chemistry, don't be surprised if NBC launches their own version of Kelly and Michael featuring the twosome to air either in syndication or on a cable network like USA or E! (both networks are trying to expand in the types of shows they air).
Couric could be the bait which keeps Lauer in the NBC family if he decides to leave "Today" in 2015 (which everyone believes he will).
Going back to the second question, it wouldn't make sense to force tension between Couric and Guthrie because in the hypothetical situation that Couric were to replace Guthrie, how many years could Couric and Lauer last during that grueling time period?
It's possible Couric has a future with NBC, but it won't be to replace Guthrie. She'll either become a long-term contributor with primetime specials co-produced with Yahoo and/or she'll do something with Lauer on one of NBC's gazillion channels.
Is there a chance none of this ever happens?
Yes. It's a New York Post report. To be honest, I still hold my prediction that Katie Couric will replace Barbara Walters on "The View," but ABC has been doing some unconvential things with it's daytime programming lately (i.e. Michael Strahan) and they could spice things up by adding a male to the panel.

CORRECTION - "Today" is losing to "GMA" by more than "a couple thousand" viewers, the lead is closer to 1 million. I apologize for the error.