A very interesting move was announced on Friday which piqued the interests of the hipster world and the media world. Vice, once a failing magazine but now a super power on the Internet, sold a 5% stake to 20th Century Fox, owned by media baron Rupert Murdoch. Murdoch has had interest in the company for a long time but he's now put $70 million of his money where his mouth is.
Who's heard of VICE media? Wild, interesting effort to interest millenials who don't read or watch established media. Global success.
— Rupert Murdoch (@rupertmurdoch) October 13, 2012
Since that tweet was published, speculation has been brewing as to whether Murdoch would become a partner in this alternative media empire which is slowly becoming one of the top sources for news among millenials. And sure enough he did it.
WINNERS:
Shane Smith, CEO of Vice
VICE -
The company now has money to finance international stories, uncovering events in places such as India and Europe, which aren't covered extensively by American media outlets. It also has resources internationally through Fox's outlets such as STAR TV and Sky TV which weren't available to them when they were on their own.
20th Century Fox -
They win big in this situation because they have another avenue to reach young consumers. Based on the announcement as reported by the Financial Times, it doesn't seem like a lot is going to happen domestically in terms of Vice's reach but if I was Fox, here are some ways I would take advantage of this partnership.
1. Give Vice the responsibility of forming a promotional online series for a movie which is coming out soon aimed at Vice's target audience. Vice did this with "Project X" and helped build out hype for the movie through a cartoon series featuring celebrities. The cartoons went viral and added to the anticipation for the movie to come out.
2. Give Vice a one hour weekly talk show on Fox News. Fox News' viewers are getting older and older by day. If you created a Friday late night block comprised of "Red Eye" at a time everyone is awake together with a Shane Smith led Bill O'Reilly style power hour; young people who engaged with current events would definitely watch because it's something that's different from regular cable news. "Red Eye" is mostly conservative humor, but it's humor liberals would appreciate and Shane Smith is a crazy dude who isn't conservative but isn't liberal either, who could provide some dangerously entertaining dialogue.
A younger skewing Fox News late night block produced by Vice to compete with repeats on CNN and MSNBC and the news hour on Comedy Central is also another option that peel off a little bit of Fox News' conservative stain. Not all parts of the schedule have to agree with each other, it's all about viewers! Why else would Morning Joe be on MSNBC?
3. Create a new series on FX using all the unedited footage and bloopers from the Vice HBO series, and also play reruns from season 1.
4. A big trend in Hollywood right now is turning books and long form articles into movie scripts. Why couldn't Fox do the same thing with interesting trending investigative reports from Vice?
5. The Creators Project and Noisey, two seperate Vice channels w/ in depth interviews with music artists, could go in depth into the lives of contestants of "Idol" and "The X Factor". The online promotion could spark a surge in the ratings similar to what Susan Boyle's video did for "Britain's Got Talent".
6. Fightland, Vice's MMA channel, bring viewers investigative and inspirational reports about the world of mixed martial arts. Those stories could easily go on air during "Fox Sports Live" or "UFC on Fox" on Fox Sports 1.
LOSERS
CNN - CNN was the first mainstream outlet to take notice of Vice and formed a partnership with them in the early stages of Vice by giving them some extra page views through linkage on the front page. But they never really took time to understand what Vice is about or invested money into eventually becoming a major stakeholder in the media company. CNN's primetime fortunes could've been different earlier on if they chose to depend on Vice for some support in creating a niche/alternative programming.
VICE - Yes, they are winners. But they are also losers. Their journalistic integrity is at stake. Vice doesn't do many videos on domestic politics but Murdoch has a lot of interests and investments internationally which Vice might have a lead on which could be their next big video. Would they stop pursuing a story because of conflicts of interest or if they got a call from Murdoch saying to cease an investigation?
Bill Maher/HBO - The Maher/HBO contigent and Vice seem happy with each other currently given the fact that the show has been renewed for a second season, but how does Maher/HBO know that FX isn't going to poach the show for their respective male-skewing audience? HBO and Time Warner also lose on a big opportunity to own their own content especially given that most other content which airs on HBO is also owned by them and sold internationally and in syndication by them.
CNN BUZZFEED sparked some buzz this week in New York politics after Anthony Weiner sat down for an interview with BuzzFeed's Ben Smith. The interview was streamed live as part of the #BuzzFeedBrews series on CNN BuzzFeed's YouTube page and a portion of it was simulcasted on CNN during "The Situation Room".
CNN got a big boost from their partnership with BuzzFeed due to the fact that this interview was already scheduled before all the controversy and scandal was revealed to the public. CNN was the only major outlet with cameras and a satellite truck at the event.
In my opinion though, CNN and BuzzFeed should've buzzed up this relationship further like it did this week, a long time ago.
The YouTube channel is great for BuzzFeed because it gives them access to CNN's archives to repurpose content and create viral videos with it, and it's great for CNN because their name becomes further synonymous with being the home for breaking news but there's way more things the two entities could do that would benefit the public.
"Should've thought of this a long time ago"
First of all, the YouTube channel needs to have a daily newscast with CNNers interacting with BuzzFeed'ers discussing what's trending. Even better and more ambitious would be to create a hybrid competitor to HuffPoLive and the Young Turks, which are online TV's most popular news nets. And it's not like CNN doesn't have experience broadcasting live online, CNN.com/live used to be a popular online destination.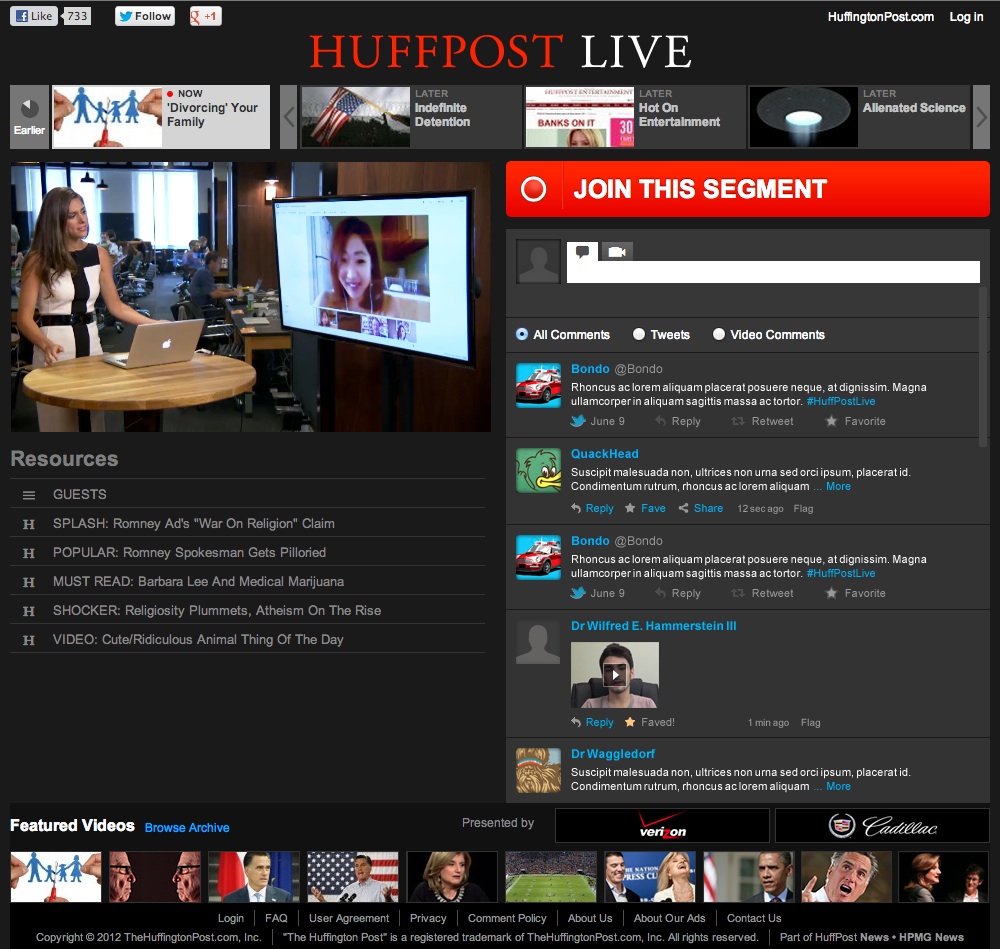 HuffPoLive has taken centerstage as the first ever social news network. CNN, BuzzFeed and YouTube might be able to do a better job though if they just put their head in the game. CNN is a big name, BuzzFeed is popular with digital users and YouTube is the most commonly used video interface online
A possible constant live stream on CNN BuzzFeed could cover breaking news instantly as soon as it trends and curate tweets together with live shots being fed into CNN's control room. YouTube would probably support it as well as they continue to encourage more creators to go live. If CNN were afraid it would hemorrhage their daytime audience, then they could easily do 5-10 minute crossover segments throughout the afternoon which were simulcast online and on TV which would end up cross promoting each other. Ideally, someone's TV would be tuned into CNN with the sound on, while CNN BuzzFeed's live stream was on the side on their computer.
They could even do something similar to the old LiveNewsCameras.com, with a main feed and CNN control room's other feeds on the sides.
If I were CNN, I would give the folks at BuzzFeed a block of programming on the weekends to create lifestyle programming for their readers on TV which featured writers and lists from the website as well as BuzzFeed's video cousin "NowThis News". I would also prominently feature BuzzFeed writers during segments discussing politics and pop culture throughout the week.
Vice versa, if I were BuzzFeed, I would expect CNN personalities to be blogging on the site about things they probably wouldn't post about on their news blogs on CNN.com. For example, Anderson Cooper should be able to write a live blog on the site while he's at home watching "Real Housewives" or if Wolf Blitzer wants to write about the top 5 reasons why he loves his beard, he should be able to do that.
And what I truly don't understand is how BuzzFeed hasn't joined the Turner Digital Network so they could garner more advertising money from sponsors who want to advertise on BuzzFeed's sports section just as much as they want to advertise on NBA.com or Bleacher Report.com; it just seems to make so much sense.
I don't really expect CNN to buy BuzzFeed because I think keeping the two entities separate is better for both sides but there are better ways to make the partnership beneficial than the minor things which they've been working on prior to the Weiner interview. BuzzFeed needs to become part of CNN's identity or else CNN will mess up another relationship with new media like they've done with Vice.