Shhhhh!!!! Don't tell anyone! I'm coming back.
This is just out of the blue (I have no sources) but I think Keith Olbermann will be making a return to ESPN with his own late night talk show which will air either on the mothership ESPN at 11pm before SportsCenter or take SC's lead-in and air at 11:35ish OR air at 11pm on ESPN2 which typically has less sports programming that extends past 11pm unlike ESPN.
Even though there's bad blood, Olbermann has nowhere to go to talk politics because none of the news networks want him and the news networks that do what him (like RT America or Al Jazeera probably) are too obscure for his tastes (no matter how much they're willing to pay, he doesn't want to go through another Current TV situation).
The internet would have been seen as a viable option because of the emergence of Netflix and Hulu but there haven't been many successful LIVE talk shows on the internet besides the Young Turks and it's a very volatile market that I'm not sure he's willing to explore. Eventually, the internet will be filled with legitimate live video sports and news talk shows to compete with the ESPN's and CNN's of the world but as of now that is not the case (
Sports Illustrated just started a live talk show weekdays at 1pm on Monday
).
It's surprising that Olbermann hasn't been signed to MLB Network because of the fact that he blogs for MLB.com and has made several guests appearances on there (as well as the fact that he loves baseball). The point is Olbermann has no other options that'll get him back to the prominence he had when he was at MSNBC or the heydays of SportsCenter. If he has nowhere to talk politics, he needs to do something with his life and his next best love is sports.
Why does ESPN need him? Because ESPN realizes that for the first time in ages, they have a serious competitor that can put their throne at stake. Unlike NBC and CBS who are already on the field, this will not be FOX's first rodeo in trying to take down ESPN. Using that experience with FSN as well as hearing what fans hate about ESPN (including the fact that they're too organized and not down to earth like say Inside the NBA or FOX's NFL crew), FOX will be able to provide legit competition and become the antithesis of what ESPN stands for. And let's not forget that FOX has the most attractive set of cable sports rights which ESPN desires (NBC is too niche, Turner has no network (yet) and CBS has no real rights on the cable side).
So how does ESPN respond to FOX possibly becoming fans' favorite sports network to watch especially given the fact that ratings are down in the late night for SportsCenter? Bring in a proven winner who always provides buzz from people of all walks of life. Unlike the anchors of SportsCenter who are easily switched in and out and have no personality nowadays, Keith Olbermann is a star who brings a crowd and can bring ESPN the attention it needs, which is why my prediction is the Olbermann debuts a new late night talk show on August 1st (the same night Fox Sports 1 debuts on television).
THE NEW DIRECTION OF ESPN:
Believe it or not, I also believe ESPN is going to switch the direction in which it goes with it's talk shows. They'll definitely keep sports debate in the mornings on ESPN2 and the 5pm ATH/PTI hour on ESPN is here to stay but I think they're going to try to create a more "guy talk" niche that still makes sports it's number 1 priority but opens itself up for other topics of discussion which might not necessarily have anything to do with sports but are interesting to the audience at hand. The fact that they even pursued Seth Meyers for a possible late night gig
according to the Big Lead
proves to me that they may be looking to become bigger than just sports.
ESPN already sort of does it already with Bill Simmons and Grantland but I think that direction moves towards the television side as well instead of doing it online and on podcasts. Here is an example of what I mean. In this video below, Jalen Rose gives viewers an inside look into life as a professional athlete and discusses how wives and girlfriends are separated at games.
It's a type of conversation that still focuses on sports but is also comical "guy talk" which you be used to hearing more on "The Howard Stern Show" or "The Adam Carolla Show" rather than ESPN. But it's that type of barbershop talk/shock jock radio talk that I think will attract new viewers that are tired of seeing the same talking points and debate topics all over ESPN's shows.
They have the personalities to do it like Bomani Jones, Dan LeBatard etc., and Keith Olbermann would be a perfect addition to add a show which gives guys their own version of "The View". Because when it comes to guys and talk, sports always comes first but there are other interesting, important topics which guys can openly discuss when there's not enough interesting sports dialogue available. (I would also suggest WFAN's Craig Carton for that kind of thing).
If they end up taking their shows towards a more "guy talk" direction, they are able to set a niche for themselves which no other network has really tried. Spike TV is dedicated to everything for guys and the new Esquire Network will also be geared for "the modern man" but there's no real talk shows on those networks that discuss topics men want to talk about out there. Men seeking that type of discussion usually have to rely on podcasts like the ones mentioned above for that kind of talk whereas women have "The Talk", "The View" etc.
ANOTHER IDEA FOR A POSSIBLE NEW DIRECTION:
Make ESPN the players network. Keep new concepts like the new "NFL Insiders Show" where no ex-players are allowed to come on but also create shows that are players only. I would argue that viewers want to hear inside stories on the life of a professional athlete such as this video, also from Grantland:
Or that they want to go behind the scenes with players like what "The NOC" YouTube channel does a lot with athletes. Here is an example:
Or that they want to hear the opinions of players about pop culture such as this video:
The cliche studio show with the suit and tie and planned segments needs to stop being duplicated so many times. While those shows are definitely needed, we need more mancave types of discussions on TV. This is why I love the new concept of "NBA Countdown" which is aimed to be more of a conversation from 4 different perspectives (a veteran sports writer, a popular sports blogger turned new age sports writer, an old school ex-NBA player, a more new school ex-NBA player) rather than a traditional studio show similar to what Inside the NBA has morphed into.
Now the actual execution of this show hasn't really been the best and you can see through the show why a studio host like Ernie Johnson Jr. is so important (they need to add a studio host who is as relaxed as Ernie and that show would work 10x better) but the concept itself of being more relaxed and cool is something which needs more implementation at ESPN if they want to become unique from FOX Sports 1 and maintain their dominance.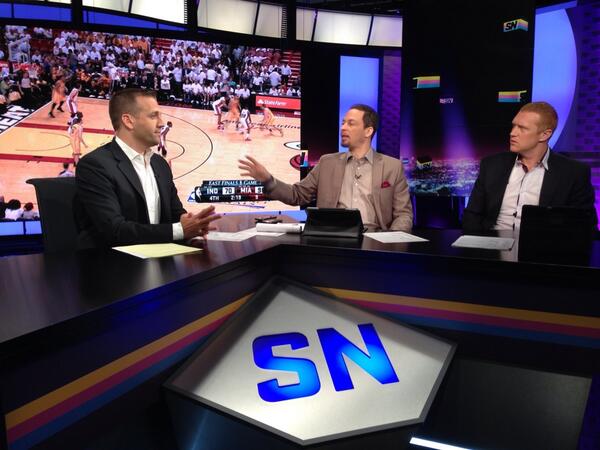 The new Max Kellerman experimental show "Nation at Night" is a perfect example of what I'm talking about. The late night show, which aired Monday night on ESPN2 without any fanfare, had a very eye-appeasing set/graphics and featured two athletes who have intriguing personalities and always have interesting stuff to say (Metta World Peace, Brian Scalabrine) as well as a reporter to provide another angle (Chris Broussard) and the crew was able to have a real, honest conversation about the NBA finals without the planned talking points which we see from buttoned down analysts on SportsCenter and without the craziness and blasphemy of First Take. The show (which received some rave reviews on Twitter) even made Kellerman likable, especially since many on Twitter either love him or hate him.
Anyways, if you're still reading this, thank you LOL. I've been rambling from my predictions to what ESPN needs to do to grab people's attention away from FS1. In conclusion, my point is get ready ESPN because if you don't change how you do things, you're going down........and forreal this time. Just ask CNN what FOX did to them. You'll still be making money through your sports properties but you will no longer control the sports world which would culturally be a sting to Bristol.